Chengdu the Mixc line AR navigation leading southwest business Metaverse landing
2022-04-25 12: Participation review (31)
window. sina_ survey_ Config = {/ / comments: the survey component style introduces surveycss: true, / / the survey question and answer style is true, false, HTTP (do not use the default style to configure false or do not pass this parameter) resultcss: true, / / the survey result style is true, false, HTTP (do not use the default style to configure false or do not pass this parameter) resultType: '_ Blank ', / / jump to a new page to view the results. The setting of third-party nested components is not recommended. If it is not set, the results will be displayed on the current page after voting. Source:' vote ', / / set the width and height of the picture Sina (hand wave), vote (default) imgwidth: 100 through the source, //Set the picture width (not required, not recommended) callback: function (data) {/ / the callback data after successful rendering and voting indicates that the voting is successful console.log (data);}}
Located at the intersection of Shuangqing Road and the second ring road in Chenghua District, Chengdu Vientiane city was built in two phases. The whole project consists of four commercial entities, including large-scale commercial shopping center, office building, hotel and residence. The commercial area of phase I and phase II is about 300000 square meters. It is the largest commercial complex in the main urban area of Chengdu and the largest shopping center in China Resources System. With a large venue area and increasingly rich brand formats, how to provide customers with a convenient consumption experience has become an important issue that Chengdu Vientiane city has been thinking about.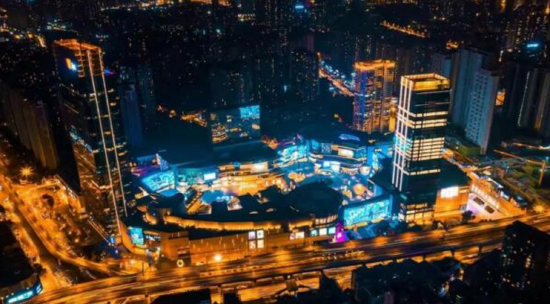 Chengdu Vientiane city joins hands with China Resources digital technology and aibee to create a new scene of AR interaction
Chengdu the Mixc jointly organized Huarun official account and Aibee to build AR real scene navigation system for customers. Whether it is a well-known brand of rich formats, or service facilities such as service stations, toilets, maternal and infant rooms, it is easy to reach Chengdu the Mixc public WeChat link or scan code to open AR navigation.
Digital twins, integrating offline and online business scenarios
Chengdu Vientiane city and China Resources digital division adopt aibee self-developed indoor real scene 3D map robot, and use laser radar, inertial navigation, wheel speedometer, camera and other sensor fusion technologies as well as multimodal fusion positioning system to reconstruct Chengdu Vientiane City, which can realize the seamless switching and continuous positioning between indoor and outdoor venues and squares.
With AR navigation as the core application, and internal business system to open up, in the realization of digital space at the same time, to provide customers with a whole scene without interruption of a new shopping experience. Ar pattern recognition algorithm has high precision and strong stability, and supports various mainstream models on the market. Through digital twinning, build the digitization of commercial real estate space, expand the marketing boundary, break through the constraints of geographical location, and give more imagination to the traditional business model.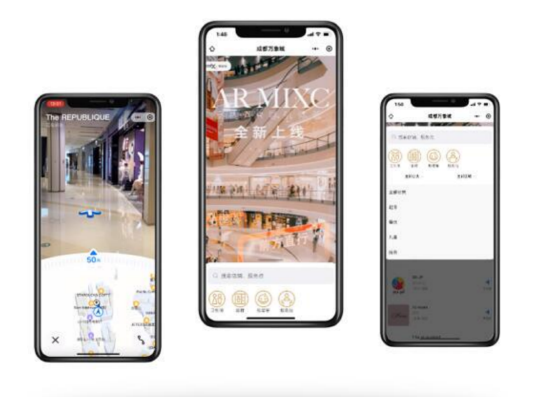 Aibee's original AR technology helps the shopping mall's silky navigation experience
Chengdu Vientiane City, China Resources digital technology and aibee Aibi intelligence have jointly created an indoor real scene 3D map belonging to Chengdu Vientiane City, which can locate the three-dimensional coordinates of each floor, area and store in the venue at the centimeter level, so that all elements in the space can be accurately mapped, which enables the shopping center to realize the functional service of "everything can be searched" and provide consumers with an online silky experience. On this basis, it can also grow more and more intelligent applications according to the needs of consumers.
In fact, China Resources Vientiane life, stock code 1209 HK, as a member company of China Resources Land, a strategic business unit of China Resources Group, a world top 500 enterprise, is a leading property management and commercial operation service provider in China. Its Shenzhen Vientiane City, Chengdu Vientiane City, Beijing Vientiane exchange and Hefei Vientiane City have cooperated with aibee to implement many digital projects, and such cooperation has also been expanded on a large scale in the whole field of commercial real estate.
At present, 20 of the top 30 commercial real estate have launched in-depth cooperation with aibee, including Wanda, China Resources and Vanke & amp; Yinli, Xincheng, K11, red star Macalline, Aegean Sea, Swire real estate, Sun Hung Kai, Shimao, Jinmao, China shipping and other leading commercial real estate enterprises are among them. Many enterprises have taken the commercial real estate digital solution provided by aibee as the standard configuration for the promotion of the group. On this basis, we will develop more diversified digital applications, accelerate the upgrading of commercial real estate ecology in an all-round way, and contribute to the development of China's digital economy.