Since this year, digital technology giants at home and abroad have rapidly accelerated the layout of metaverse in the core areas of hardware, software and other industries, and local governments at home are expected to further improve the future of metaverse industry.
On May 15, the second global metaverse conference and the inaugural meeting of the metaverse 30 forum will be held in Beijing. Wanxing Technology (300624. SZ), a digital creative software A-share listed company, as the director unit of metaverse 30 person forum, is specially invited to attend the first global metaverse academic and technical conference and the inaugural meeting of metaverse 30 person forum on May 15.
Metaverse 30 person forum is jointly sponsored by nearly 50 entrepreneurs, scholars, experts and investors from the industry. Since the establishment of the forum, with the support of hundreds of listed companies and all sectors of society, it has successively organized more than 200 online and offline activities, covering hundreds of millions of affected communication users, and attracted the attention of millions of people in the industry.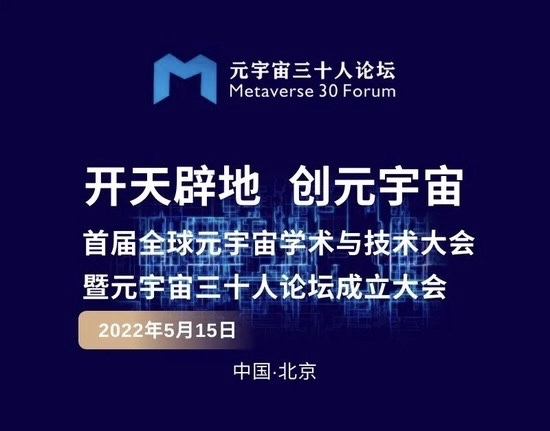 It is reported that the conference will be "groundbreaking and create metaverse", which will adopt the display form of combination of online virtual live broadcast + offline speech and round table discussion to have a heated discussion on major theoretical and practical issues in the future economic and social development of China and the world in the era of metaverse.
This is a grand event to intensively display and study the development of metaverse industry, and it will also be an important milestone in the development process of metaverse. At that time, Wu taibing, chairman of Wanxing technology, will join nearly 300 experts, scholars and industrial entrepreneurs from global government agencies, scientific research institutions, well-known universities, think tank platforms and commercial institutions to carry out cross industry and cross time and space global dialogue based on international vision, and jointly discuss practical topics and major theoretical issues in the development of metaverse and digital economy, metaverse technology and Humanities / Art / social governance, We also witnessed the establishment of metaverse 30 person forum.
Global metaverse industry top event
Focus on metaverse's academic, technical and industrial themes, and witness the opening ceremony of metaverse's 30 person forum at the conference.
Create the first global live broadcast of metaverse scene
The conference will unite nearly 100 mainstream media and websites at home and abroad to carry out global live coverage, so as to achieve the effect of online viewing by tens of millions of viewers. At the same time, it will also realize the real-time virtual live broadcast of metaverse scene, so that the audience can travel through time and space in one second and have a real interactive experience, as if they were in space.
Application case study of metaverse benchmarking enterprise
The conference will launch three round table summit forums. The world's top experts and scholars and industry-renowned benchmark entrepreneurs who actively practice in science and technology and digital construction will discuss and lead new ideas in the fields of blockchain, 5g, digital factory, smart consumption and virtual human.
The first metaverse innovation and entrepreneurship competition in China was launched
The competition focuses on creativity, innovation and entrepreneurship projects in various fields such as blockchain, interactive technology, artificial intelligence and intelligent hardware, and provides broader training and team display platforms and landing channels for entrepreneurs interested in innovation and entrepreneurship in China. It aims to promote the development of metaverse industry and create a strong engine to promote new economic development, transformation and upgrading. Just like the entrepreneurship 3.0 policy of "starting a business with high salary" launched by Wanxing technology at the beginning of this year, it supports innovation and entrepreneurship in 3D, AR / VR, video creativity and other fields with a new Entrepreneurship Model of low risk and high return, and widely invites all "Heroes" to join hands to break the golden economic track of metaverse creators.
It is understood that at present, Wanxing technology's internal venture partners are in hot Recruitment! Excellent candidates will not only have the opportunity to take charge of team operation as the head of business division and studio, but also get all-round resource support from the group; In the future, depending on the development of the project, it can also be separated from the group to realize independent operation.
How will metaverse change our future lifestyle and what new opportunities can it bring?
Collide with the sparks of new ideas and gather consensus on development. On May 15, we might as well wait and see how Wanxing technology and other enterprises contribute ideas and suggestions to promote the innovation practice of China's and global metaverse industry, China's economic transformation and high-quality development, as well as the exploration of global governance in the digital age, and write a new movement for China's metaverse industry!