On April 21, 2022, the two-day "origin of all things · 2022metaverse cloud summit" officially ended. The conference was hosted by Babbitt and co organized by Singapore Xinyue University of Social Sciences, Guosheng securities, Caffe technology, 2140 and Jupiter technology. It was supported by future science and Technology City, Hangzhou International Chamber of Commerce, China (Hangzhou) future blockchain innovation center and other units.
On April, 20-21, 2022Metaverse Yunfeng will broadcast live globally in tiktok, Decentraland, jitter, video, Mars finance, Bilibili, Talks and Choice data. The data shows that the live broadcast has been watched by more than 500000 people.
This metaverse cloud summit can be said to be an "industry event" of China's metaverse industry, including more than 40 industry guests from China, Singapore and other places, bringing a total of 15 speeches and 6 thematic round tables.
Strong alliance and dialogue in space. It presents the in-depth exploration of Chinese entrepreneurs in the fields of metaverse industrial ecology, supporting technology, terminal application and business model. It also expounds the forward-looking views of Chinese entrepreneurs on the definition, future trend and policy trend of metaverse.
We have sorted out the three "highlights" of this metaverse cloud summit. We can see a microcosm of the development of China's metaverse industry and some industrial opportunities worthy of further exploration.
In the future, the metaverse industry 50 person forum will be established, the industrial alliance will rise, and new forces in the industry are forming
On April 20, at the metaverse cloud summit, the future metaverse industry 50 people forum (abbreviated as "fm50" in English)
) announced its establishment, which aims to build a high-end ideological communication platform, cooperation and exchange platform and industrial empowerment platform.
Next, the 50 person forum will promote the healthy and innovative development of metaverse industry by holding meetings, publishing books and holding competitions. At the same time, it will also cooperate with local governments to provide "metaverse solutions" for local development of digital economy.
A6021 figure: the future metaverse industry 50 people forum was announced in metaverse
Wang Lei, the new chairman of the forum and CEO of Babbitt, said that although metaverse is very popular, the industry is still in its early stage and there are great differences in public cognition. Therefore, the forum should first output compliance and high-quality metaverse content to the society and do a good job in the promotion and popularization of metaverse. In addition, the forum insists that metaverse should "get rid of the virtual to the real", serve the real economy and empower the digital economy industry.
In the future, the establishment of metaverse industry 50 person forum means that the industry is "vertical and horizontal", and practitioners are making efforts to integrate resources such as production, research, investment and finance to exchange needed goods. On the other hand, the group realizes the integration of various technologies, so as to make more metaverse scenes land smoothly. A slow step is a slow beat. The metaverse industry is in a period of savage development.
Synchronous live broadcasting in virtual space, "metaverse live broadcasting platform" may subvert the existing live broadcasting platform
The 2022metaverse cloud summit is not just a live broadcast of "on the cloud", but really moves the summit into "metaverse".
First of all, the founding ceremony of the "future metaverse industry 50 people forum" took place in the virtual space vswork. Six Council members turned into virtual people and lit the button of the launching ceremony in a virtual scene.
Secondly, this cloud summit "checked in" decentraland, which is a virtual reality platform driven by Ethereum blockchain and the first completely decentralized virtual world owned by users. Previously, online activities including the Australian Open and the world's first metaverse fashion week (mvfw) were held here.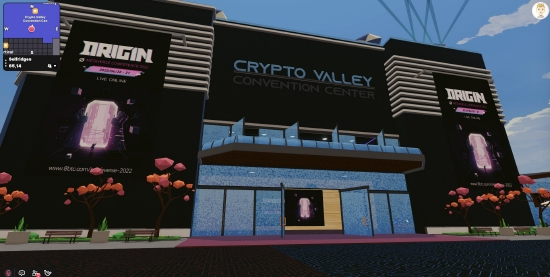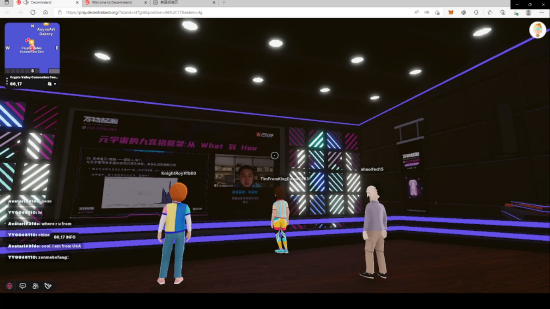 picture: audience watching live broadcast and chatting in decentraland
During the cloud summit, visitors log in to decentraland and find the coordinates "66, 17" to see a building called "encryption Valley". Two huge posters show that this is the main venue of metaverse cloud summit. In the meantime, the audience can watch the "live broadcast of Yunfeng meeting" from time to time on the super large screen. In addition to watching, they can also interact through the "comment area". From the content, they come from China, the United States and many other countries and regions at home and abroad. This is a real "metaverse summit"!
Audiences flock to the metaverse world to watch the live broadcast, which means that the live broadcast industry may face a round of "platform" iteration. The metaverse level live broadcast platform has multiple interactive playing methods, which may set off a new upsurge.
Metaverse industry is inclusive and cross-border integration may become the main theme of development
This metaverse summit has designed six theme forums, which are:
New opportunities for metaverse production and industry;
Metaverse layout of listed companies;
XR enables digital future;
Metaverse, how to make digital marketing more imaginative;
The boundary and future of digital art;
Tuyere nuggets, metaverse perspective of investors;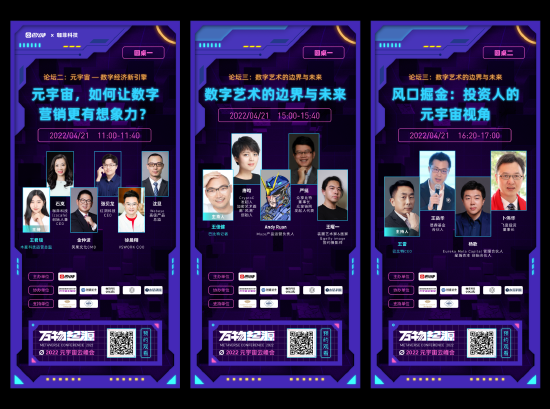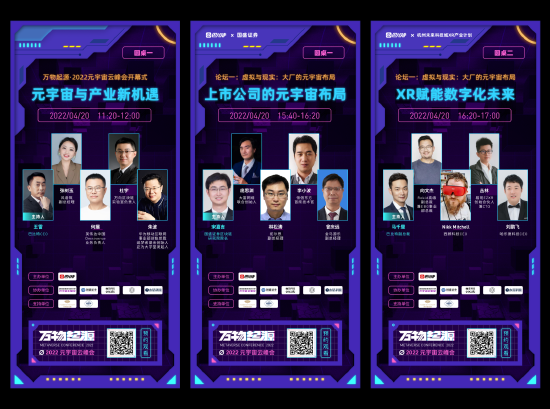 These 6 round tables involve "industry", "listed companies", "XR", "digital marketing", "digital collections" and "investment and financing". This is the "essence part" of the whole "Babbitt Metaverse Yunfeng" design, which is different from many industry summit guests. This Yunfeng will cross many fields, and many guests are "first meeting".
However, the charm of metaverse's cross-border integration lies in this. All guests can explain it from their own perspectives, but it can be attributed to "metaverse", which really brings viewpoint impact and inspiration. The guests said: it has opened a brain hole. After the live broadcast, many guests continued to discuss and share their experiences in small groups.
It can also be seen that it is not feasible for metaverse to start a business behind closed doors. Only by combining vertically and horizontally can it open up a new world and explore new application scenarios and business opportunities.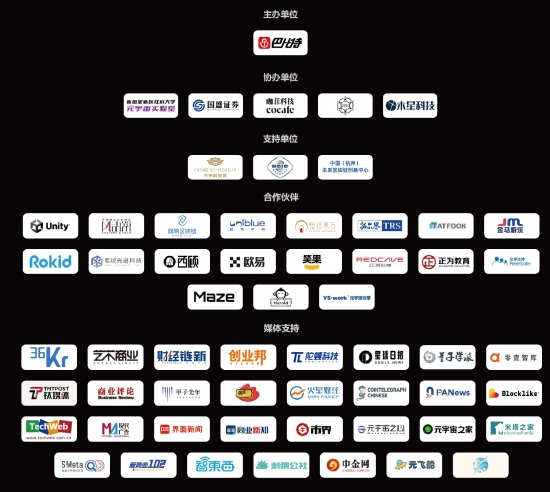 This is a small summary of the 2022metaverse cloud summit and three observations. Now, the Yunfeng meeting has come to an end. The views output by metaverse innovators, entrepreneurs, scientists, artists and scholars are being disseminated on the Chinese platform in the form of articles. These wonderful views are a witness to the popularity of metaverse.
In the future, Babbitt will continue to help the innovation and implementation of metaverse industry, and continuously promote China's metaverse industry to lead the world.
In 2022, we look forward to an offline metaverse conference. At that time, practitioners from all over the world will get together to talk about the opportunities and challenges of metaverse entrepreneurship.
We'll see you again in 2022.
Note 1:
2022metaverse cloud summit 2-day live playback: https://www.8btc.com com/metaverse-2022
Note 2: in the user satisfaction feedback form of Yunfeng meeting, 30 excellent comments can get preferential benefits for offline event tickets or airdrop. http://conference-8btc.mikecrm.com/cly0i9k
Sina statement: Sina's posting of this article for the purpose of transmitting more information does not mean that it agrees with its views or confirms its description.