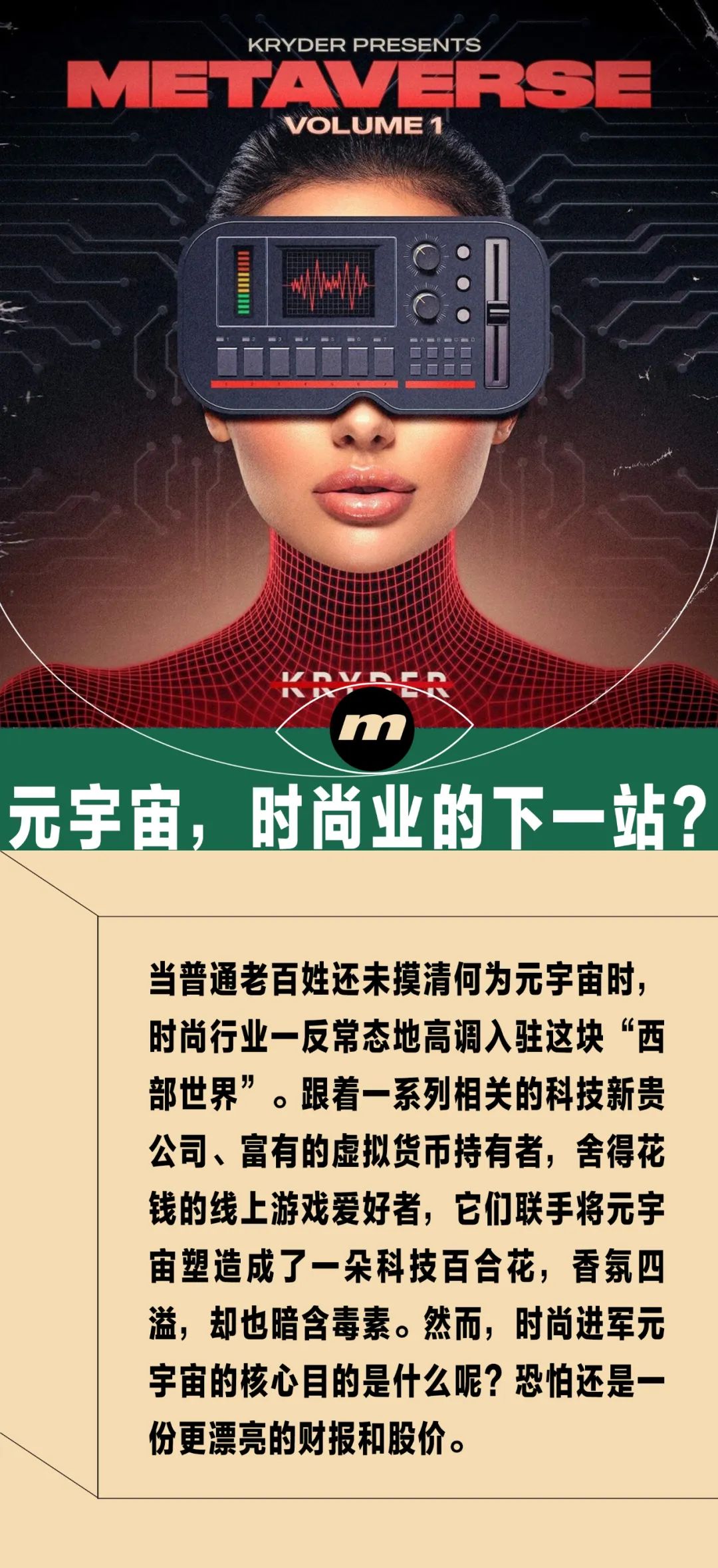 On March 24, the world's first metaverse fashion week (mvfw) was held by decentraland, a top virtual social platform based on Ethereum blockchain.
The fashion week is held in the newly built luxury fashion block of decentraland. On both sides of the street, there are buildings inspired by the avenue Montaigne in Paris. Digital asset investment company tokens Com has bought the block, worth $2.4 million.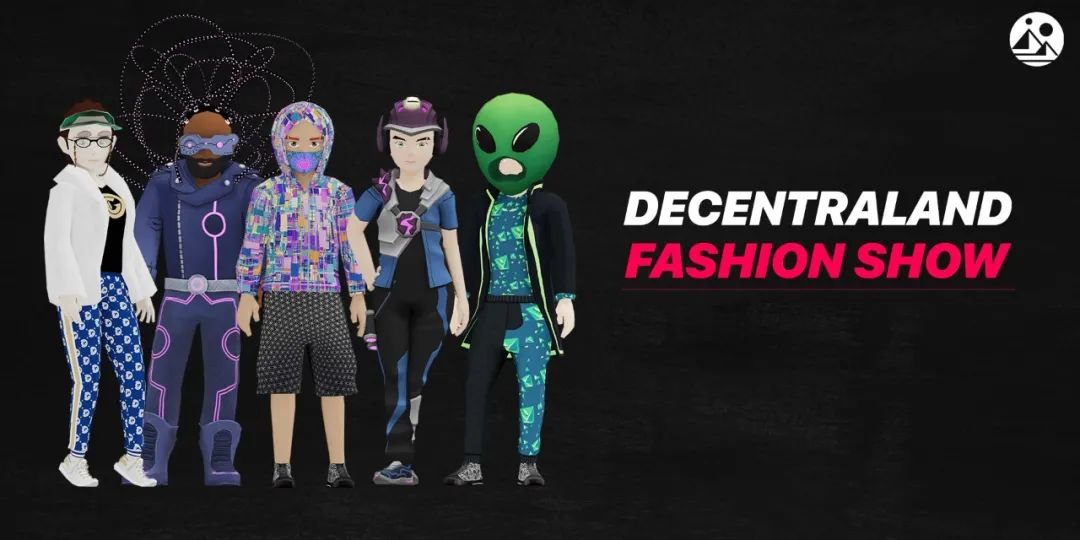 ● ● ● 
The virtual fashion week initiated by decentraland has attracted more and more attention from fashion brands
Like other fashion week schedules, the four-day metaverse fashion week is filled with fashion shows, countless parties and concerts. People can also go to the brand's immersive space or Flash shop after the show to buy digital fashion for their avatar in decentraland. Unfortunately, the position of the first row of the show is still reserved for "important people" in the industry.
"I told him (designer Peter Dundas) that you need to jump on the metaverse train, or you'll miss it. We think this is the future," said Evangelo bousis, founder of Dundas. The brand showed great interest in metaverse fashion week. In addition to Dundas, Paco rabane, Etro, Tommy Hilfiger, Cavalli, Nicholas Kirkwood and Elie Saab also joined the official lineup of this fashion week. Most brands not only reinterpret the existing items, but also launch a series of experimental designs that will not necessarily be put into physical production. Tommy Hilfiger skipped the schedule of this season's traditional fashion week and directly released the brand's new series in metaverse.
With this expectation, after landing in decentraland, I think most people will be frightened by the visual picture of Wumao special effect. In metaverse fashion week, any "build" effect related to it is far less than the realistic visual effect that any popular online game can build today.
You can log in to this fashionable place through two identities, either "tourists" or virtual currency holders. Compared with the former, the latter can consume at will, such as buying virtual clothes launched by various brands during this period.
An electronic display screen "stands" on the main square called Genesis Plaza. You can think of it as an official itinerary, where important events during decentraland fashion week will be displayed. Like offline fashion week, in addition to fashion shows held by brands, there are also forums and lectures, fashion activities and after parties. During the exhibition period, the flagship store of NFT was opened in France. It was only the flagship store of NFT, which was not famous in France. It was an embarrassing place for the sale of selfaner's works.
The architectural complex inspired by the avenue Montaigne in Paris is called luxury District, which is a very direct and rough name. What's terrible is that this block not only doesn't have any Paris charm, but is more like a simplified version of Beijing Badaling outlets. Of course, shops on both sides of the street can enter the store for consumption. Most of the goods sold by shops are virtual clothes that can be tried on with one click. A small number of smart businesses provide web page Jump links to let consumers go to the physical e-commerce platform of the brand. For example, Tommy Hilfiger, who is good at playing with these empty head and brain gadgets.
If you really think Tommy Hilfiger will present a revolutionary metaverse fashion event here, you're really disappointed. The brand just moved the #tommy Carnival activities that have been held continuously in the past few years to the online, but there are only sporadic streams of people here, without the presence of super model friends such as Gigi Hadid and kendou, and there is no Carnival of young people holding cheap cocktail drinks. An extremely simple architectural window is built to display the advertising films of the brand's spring and summer 2022 series. The rough experience will scare away passers-by.
Etro and Dolce & amp; Gabbana held fashion shows during metaverse fashion week. If you are lucky enough to "sit" in the show, you will begin to doubt life, because such a crude picture will happen in the 1920s. Does this go against the original intention of "creating high-quality immersive content" that the metaverse world has been emphasizing?
Metaverse: everyone can't talk about these realities.
Especially since Mark Zuckerberg announced his determination to focus on metaverse in his speech last October and changed the company's name from Facebook to meta, both technology and Internet companies, media or fashion brands want to get a share of this magnificent blue ocean.
LVMH group suddenly released its first metaverse virtual ambassador in mid March. The female avatar with gray blue eyes and wavy Brown wave head will appear in the start-up application solicitation of the sixth LVMH Innovation Award, and will issue a statement on innovation, technology and digital related topics for LVMH and its brands during Viva technology. What it means is that LVMH CEO Bernard Arnault publicly expressed her caution towards the yuan universe at the end of 2021, and warned the industry to be vigilant against the Metaverse bubble.
No one can really say what metaverse is. Although marketing numbers who smell business opportunities continue to popularize science to people, "metaverse" comes from Neal Stephenson's science fiction "snow crash" published in 1992. It represents the second life experienced by virtual reality and avatars, but no one can accurately predict how it will develop. Thirty years after the concept was created, people still can't accurately define the boundary of metaverse. Even Zuckerberg only vaguely said that "the definition of metaverse is about time. At such a time point, the immersive digital world has basically become the main way of living and killing time". It's still confusing after listening to it.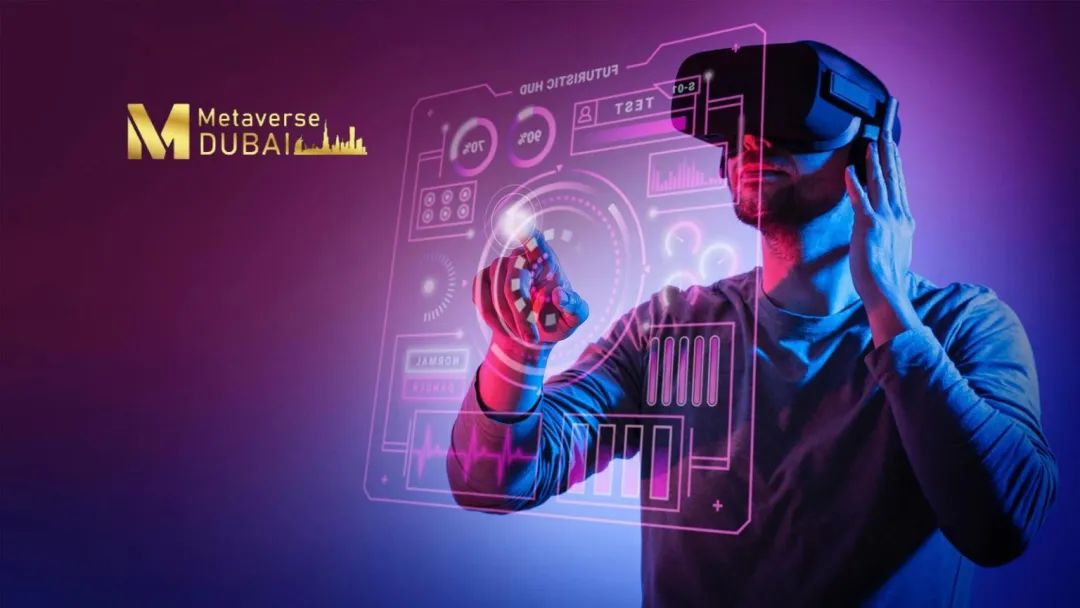 ● ● ● 
The activities related to metaverse are increasingly rich and involve all walks of life
Whether it's subtle, mysterious or half understood, the intention of fashion brands to seek business opportunities is ready. Shortly after the announcement, meta quickly posted a tweet: "Hey, Balenciaga, what's metaverse's dress code?" Previously, Balenciaga has completed a series of exploration and expansion of the virtual world under the guidance of designer demna gvasalia. One of the most impressive is the cooperation with game company Epic Games to release the brand 2021 autumn winter series in the form of future generations: tomorrow's world video game. Through the VR glasses sent by Balenciaga, guests can immersively experience the future world built by the game in 2031 and have a close look at the details of each NPC model.
There is no doubt that the fashion industry has opened a round table discussion on the future dress.  

Digital fashion is nothing new. From recharging red diamond to buying QQ show to changing the skin of game characters, growing up in the information age, we are not satisfied with the functional utility of clothing in reality. We met our psychological needs by creating virtual characters more than ten years ago, even if we had to pay real money.
Looking back from the perspective of hindsight, fashion brands are always slow in the digital field. At least when the digital waves such as e-commerce, social media and live broadcasting swept the world several times, most fashion brands showed an unmoved trend. They barely took the step of change until other industries had widened the water surface. In 2008, Forrester Research conducted a survey of luxury brands. The results showed that only one-third of brands showed a positive attitude towards online sales. According to the report of iResearch consulting, the scale of online shopping transactions in China at that time had exceeded 100 billion, with a growth rate of more than 130%.
It was not until around 2018 that some brands showed an active attitude towards digital fashion. Head virtual idols such as lil Miquela, noonoouri and Shudu gram appear in fashion magazines, cooperate with top fashion brands such as Prada, Salvatore Ferragamo and Valentino, and enjoy the same treatment as star guests. In Maison Margiela's autumn and winter 2018 Gaoding series, designer John Galliano wrapped the iPhone and iPad around the model's ankle or embedded bag, and also used VR glasses as accessories to complete a fashion practice of wearable devices. MOSCHINO is also the first to be eager to try in the game field. It cooperates with the Sims to release a joint series and display it directly in the game.
In the observation of Anna Wiener, columnist of the new Yorker, the fashion industry first logged into the virtual world through video games. Fashion brands and game companies "train players to become eager, expected and continuous consumers". The turbulence of the epidemic undoubtedly promotes the process of digital revolution of fashion brands. Traditional online media such as images and videos have become commonplace. Fashion brands wrap themselves in gorgeous digital clothes and explore more cutting-edge and unexpected forms. According to the estimation of game skin trading platform dmarket, the annual market value of game skin is as high as $40 billion in the United States alone.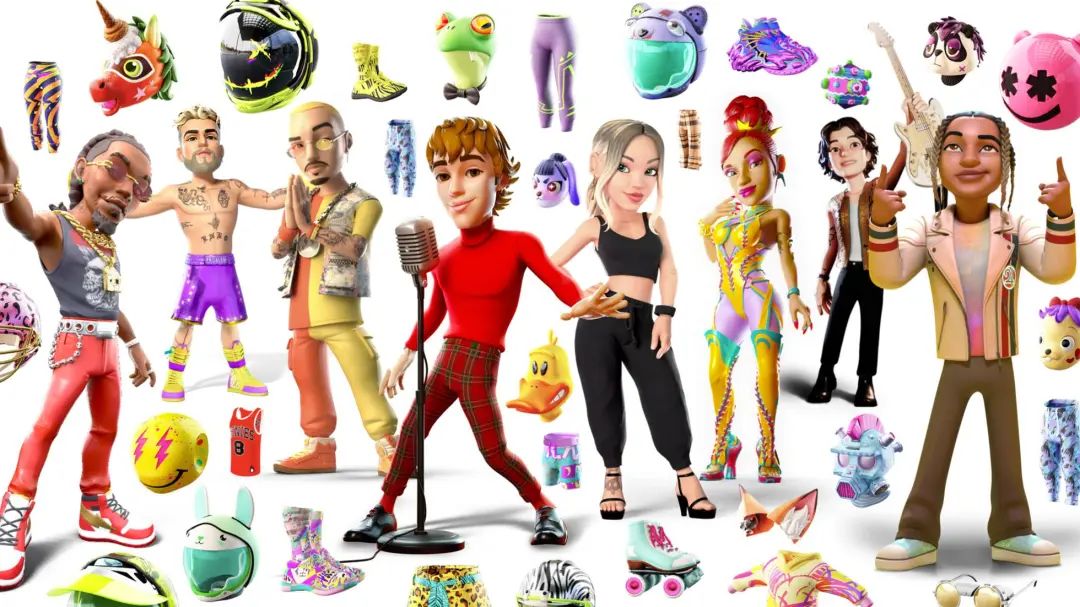 ● ● ● 
Adding fashionable personalized clothes to the characters in the game is the simplest and easiest step for fashion brands in the process of entering metaverse
The popularity of the Animal Crossing club has attracted a series of brands such as Valentino, Marc Jacbos, Anna Sui, Coach, GCDS and game player to provide digital clothing with obvious brand logo for players. While Louis Vuitton created the game character skin for the League of heroes, he also sold the co branded physical clothing series online. The clothes designed by fragment design for cyberpunk 2077 not only exist in the original market of the game, but also are displayed in offline stores. Fujiwara himself also appears as a virtual image in the game wearing a series of clothes.
There are also brands that go further, directly choose to create their own games and polish a deeper brand mark. Burberry's "B surf" is heavily implanted with Burberry's new summer products in surfing racing. Gucci arcade, updated by Gucci in the app, is inspired by the popular video game hall in the 1970s and 1980s, where users can interact with Gucci's iconic character symbols. The construction of game concept and the design of clothing style have become an important part of brand marketing narrative.
We are already familiar with the following story – overnight, the concept of metaverse took root in the hearts of the people.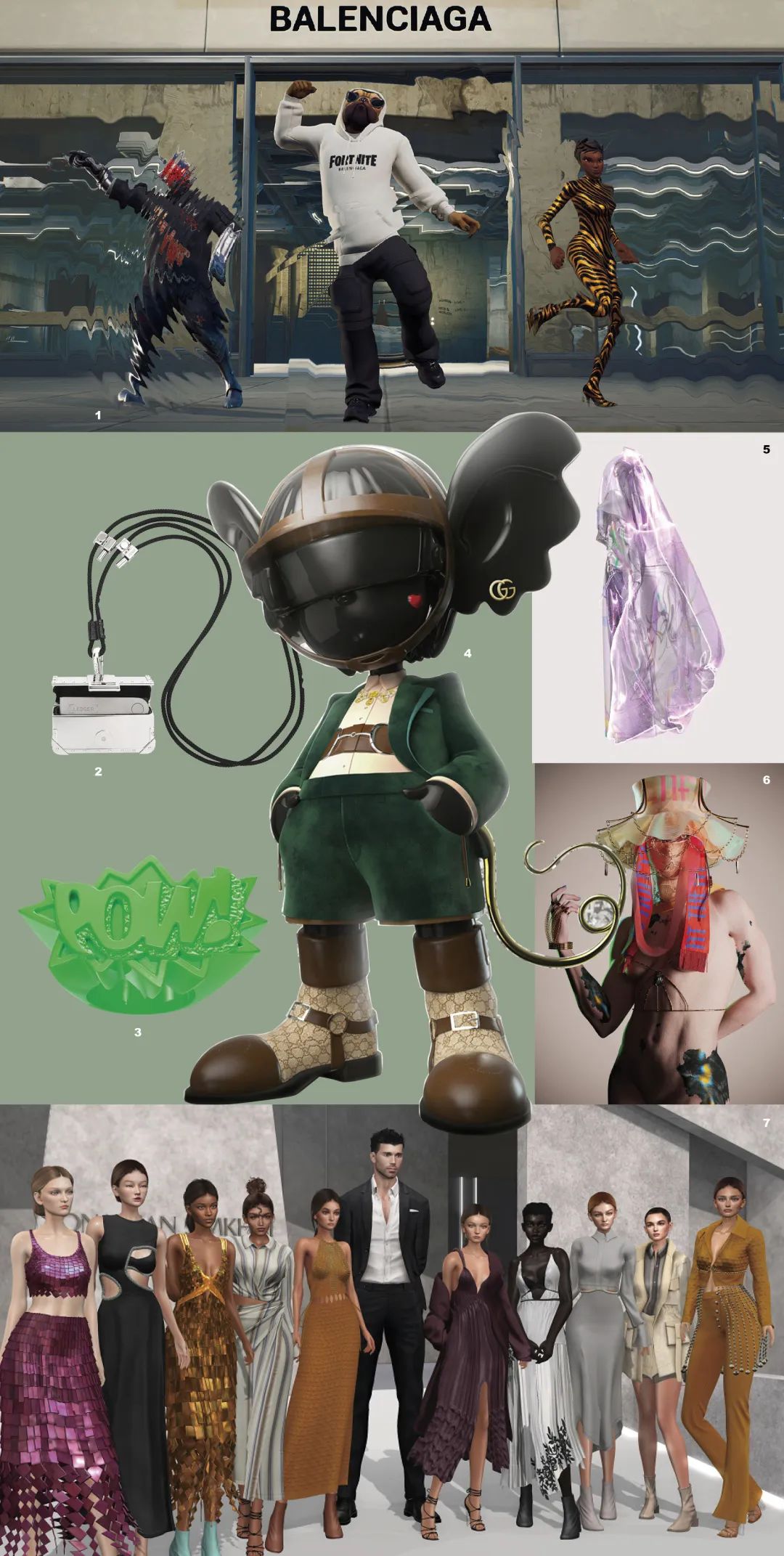 ● ● ● 
1. Online game "Fortress night" and Balenciaga launched a digital and physical clothing series
  2、Fendi × Ledger baguette tech accessory, ledger nano x is a leading digital hardware wallet for cryptocurrencies and digital assets. This cooperation is a global initiative
3. Ambush will brand the iconic "POW!" The logo is reproduced in the form of NFT digital products, officially announcing the brand's entry into metaverse
4. Gucci and China trend IP marsper jointly launched cross-border cooperation to create the first NFT art work with digital animation
5. The fabric, a digital fashion company, designed a dress called "iridescence" and successfully sold it for $9500
6. Cooperation series "re veil" between digital fashion company the fabric and digital artist Teresa Manzo
7. Jonathan simkhai 2022 autumn and winter series is presented in the form of virtual release
In the autumn and winter 2022 men's wear week, some brands directly announced their plans to enter metaverse. For example, Fendi cooperates with a digital asset management company specializing in providing digital wallet encryption technology to design a virtual currency wallet. A ledger's nano x digital wallet is hidden in a pendant shaped like a miniature baguette handbag. Ambush also released the first NFT project "reboot", the brand's iconic "POW!" Graphics appear in 2022 NFT items. Diesel, who has always been willing to try something new, has also worked with the digital fashion company the fabric and the luxury fashion NFT platform neuno to expand its metaverse territory again and launch the D: verse series to connect the real and virtual world with a new NFT collection. D: Verse has a unique NFT version of the show piece, which also covers limited edition physical clothing, sports shoes and accessories. Both traditional currency and cryptocurrency can be used for transactions. Diesel shares the tutorial of e-wallet creation through this platform. Those who do not hold cryptocurrency can use NFT diesel. Buy NFT collections for simultaneous sale.
The revolution has taken place, and fashion brands will never miss the opportunity at hand again. Several new fashion brands are added to the list of metaverse ready to explore almost every week. This time, fashion has become one of the few areas in which metaverse is in a leading position.  

Taking 2021 as the boundary, if the previous expansion of territory is more a lot of attempts made by the brand at the marketing level, then the later exploration of metaverse began to return to the clothing itself and touch the social issues of reality and virtual.
Why do people buy digital fashion in the virtual world? Put aside the eye-catching gimmicks, if fashion brands want to cultivate in metaverse, this is the first thing they need to think about and educate consumers. At least, there are still many people who have doubts or reservations about digital fashion. The guardian calls it the "emperor's new clothes" in the Internet era.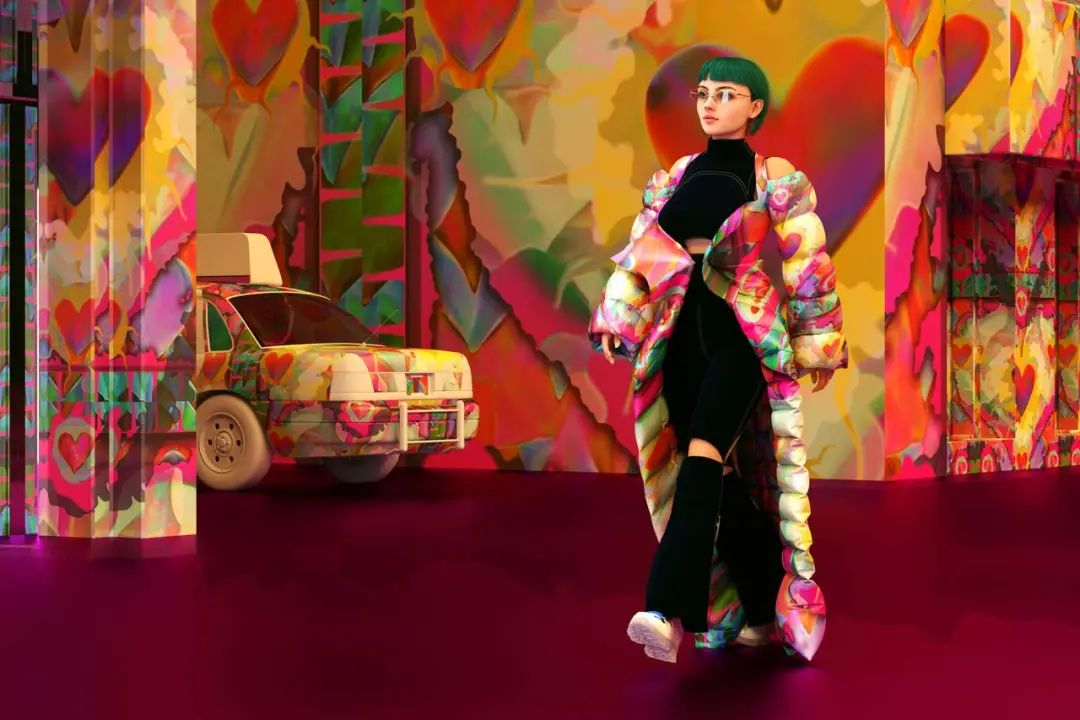 ● ● ● 
More and more brands begin to pay attention to launching new clothes in the world of metaverse. Whether it is a pragmatic style, more experimental, or even an idea without practical value, they can be "put on" here
Facing the future, does the virtual world also represent reality? To some extent, the answer is yes. We have long been used to various filters on social media, and often consciously interact with time through games. We can become different from ourselves in any virtual space, even in our own color of skin.
It is in the context of the intersection of virtual and reality that fashion brands begin to really take digital fashion not only as a marketing tool, but also bear the same sales task as physical clothing.
Last March, Gucci and AR technology marketing company wanna jointly created the brand's first digital virtual sneaker: Gucci virtual 25. Designed by Alessandro Michele, this pair of shoes is inspired by the color matching of fluorescent color stitching from the 1980s. It also has the detail design of turntable shrinkage, which eliminates the trouble of tying shoes. Consumers can buy this pair of sneakers at the price of $12. The use scenarios include Gucci brand app, VR chat, VR social platform, roblox, etc. Of course, people can also take photos, videos and post them on any social platform. $12 sneakers, which may be the first Gucci item in many people's lives.
The fact is that since 2019, gucci has deeply explored the field of games and virtualization. In addition to the game section of "retro game hall", there is also the rare version of Fenghuo wheel car jointly built with Mattel creations; Special edition backpack jointly launched with E-sports Club 100 things; Interactive experience with Gucci garden created by online game platform roblox; The theme Island launched with the super popular leisure game animal crossing; What's more, the content created with the Sims 4, the limited edition guccidive series diving released with the e-sports club Fnatic, the world's first limited edition combination Commemorative Set Table launched with Xbox, and so on.
What else can we buy?
Take a look at dressx, the digital fashion commodity market, which contains digital fashion from all over the world. Users only need to upload a clear, shadow free full-body photo, and then after 1-2 days of processing by the staff, they can get the virtual image of themselves wearing digital fashion. The prices of these clothes and accessories range from $25 to $9500, covering almost all levels of markets from fast fashion to advanced customization. The design of some of these clothes is indeed unique, and even violates the restrictions of physical rules. On dressx's website, we can buy dresses made of digital metal, fur, rhinestones and Christmas mistletoe, as well as a space cloak from Annau that glows in the dark. These are things we usually dare not wear or can't wear at all.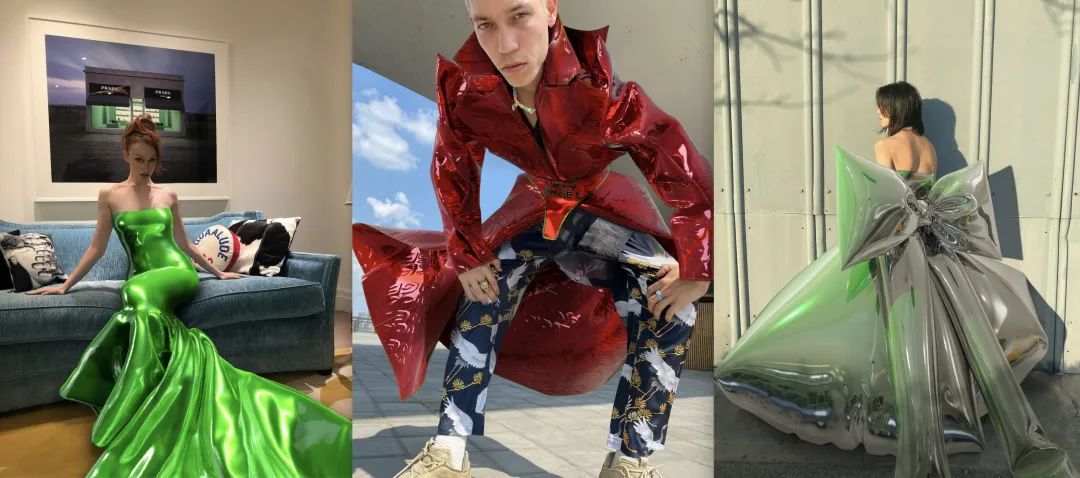 ● ● ● 
The combination of real and virtual clothing is becoming the most fashionable new traffic password on social media.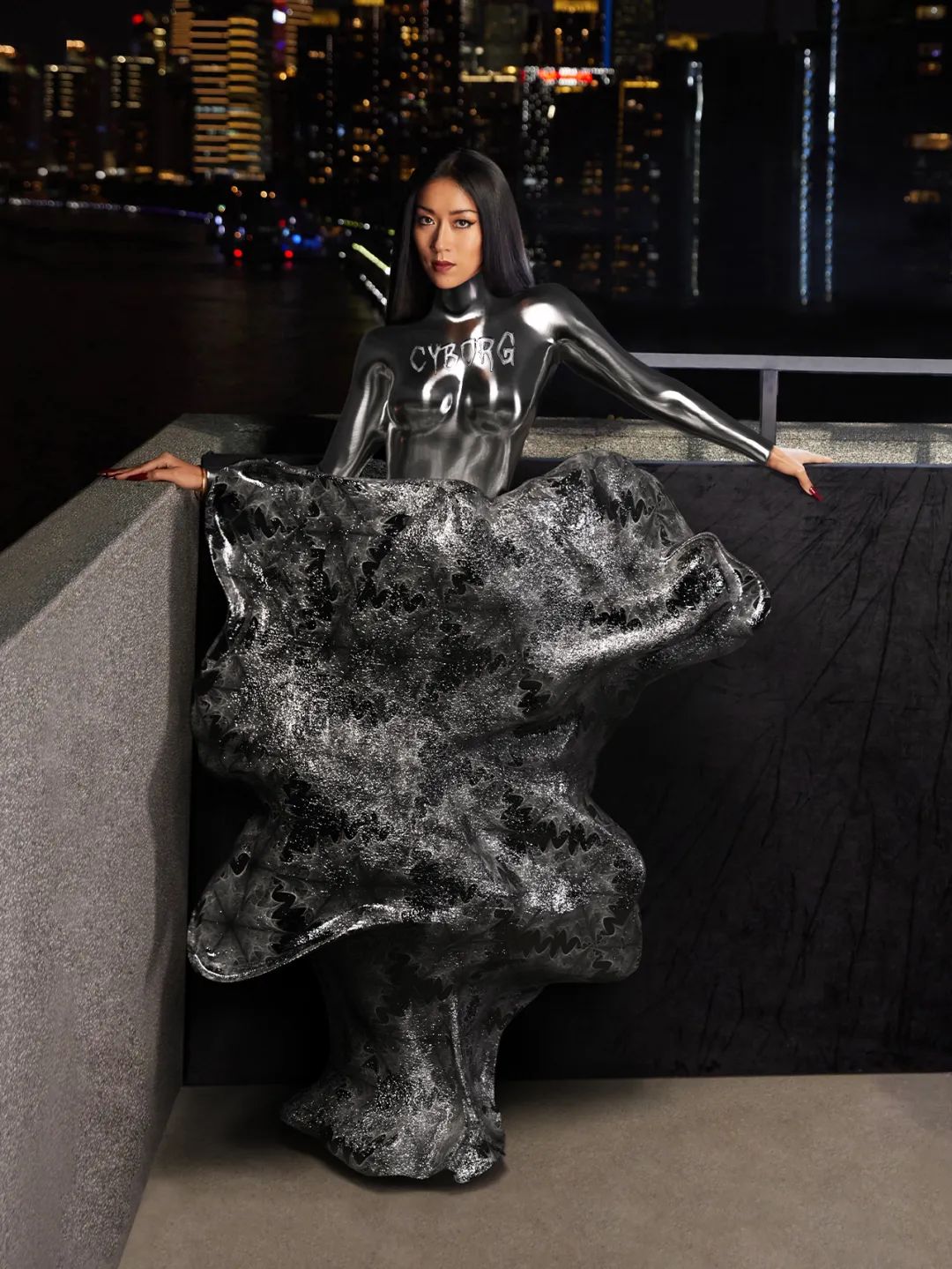 ● ● ● 
Chinese female singer Ji kejunyi "wears" the NFT virtual fashion capsule series launched by Chinese designer brand annakiki in the autumn and winter 2022 series "post human code"
It must be admitted that, at least for now, the digital fashion we buy is only an evolutionary version of the filter, which is not necessarily beneficial to improving the quality of life, but people are still willing to spend a lot of money for it. "Digital fashion is a way to express and explore yourself," said Michaela lacrosse, director of strategic communication of the fabric, a digital fashion brand. "Such creativity is exciting and opens up a new way of expression, which is impossible in the real world."
In lacrosse's view, fashion is an "emotional experience", and the way to obtain the experience is not affected by the changes of digital or physical space. But just as Kanye West has been "passionate and infatuated with the feeling of fitting clothes and their details" since he was five years old, the touch of fabrics, the smell of materials and the feeling of clothing packages are indeed difficult to replace. Although we can see some imaginative digital designs, most of the products on dressx are not more exquisite and unrestrained than the designs of Rick Owens, Walter van beirendonck or Issey Miyake.
Does the virtual world really represent another reality? If Zuckerberg's prediction can finally be realized, blockchain will enable us to have an avatar that can escape freely inside and outside metaverse, move digital fashion directly from decentraland to the League of heroes, and then become our own work and social dress.
But by then, will clothing still be that important? Until that day, we can shape ourselves completely according to our own aesthetics through clothes, and even change the age, character and class in people's impression. Maybe Zuckerberg will eventually release himself, no longer wearing the same gray T-shirt almost every day, but wearing a flame like dress (just like he showed the astronaut suit and skull Jumpsuit in his wardrobe in metaverse video). The world's operating rules have undergone earth shaking changes. Do we still need Balenciaga to tell us what kind of digital fashion we should wear to get close to the trend?

In 2018, Kerry Murphy, who was originally engaged in film visual effects, established the world's first digital fashion company the fabric in Amsterdam, the Netherlands. The next year, the brand designed a dress called "iridescence" and sold it successfully for $9500. The world's first digital fashion traded in the blockchain also made the fabric popular and became a pioneer in the field of digital fashion.
After thinking about technology and identity, what fashion brands need to do is to find a breakthrough from other social issues and endorse the legitimacy of digital fashion. "Sustainability", which has been repeatedly mentioned by the fashion industry in recent years, seems to be in use again at this moment.
Just as the marketing concept that replacing pure milk with oat milk will significantly reduce carbon emissions, supporters of digital fashion also claim that it will solve the sustainability problem criticized by the fashion industry for many years. The fabric posted on its official website a sustainable development report in cooperation with Imperial College London, saying that replacing physical clothing with digital samples in the design and development stage can reduce the carbon footprint of brand manufacturing by 30%. Compared with a real T-shirt, "in the whole process from design to destruction, a physical T-shirt produces up to 7.8kg of carbon dioxide, while a digital T-shirt only needs 0.26kg". In addition, digital fashion also has outstanding performance in reducing water waste and chemical pollution.
On the surface, such a theory is perfect, regardless of whether digital fashion will really affect people's habit of buying physical clothes and eventually occupy consumers' wardrobe, but new environmental problems caused by the virtual world are also gradually emerging. The overall carbon footprint of the blockchain is huge. According to the report of the Cambridge University bitcoin power consumption index, the power consumed by mining bitcoin in one year is equivalent to the power currently supplied to Malaysia, Sweden or Ukraine every year. If bitcoin can be widely adopted like other new technologies, it can push the earth's temperature up by 2 degrees Celsius on its own. At present, the main transaction mode of digital fashion is also carried out through cryptocurrency similar to bitcoin. "This pleasant waste is a crime against humanity. I'm not exaggerating." Digital artist Everest Pipkin wrote in his blog post.
It's always exciting to step into a new land. For the fashion industry, which has always been entangled by old rules and grades, the transition to metaverse may also be an opportunity to reshape the new order. The fabric's ambition does not stop at sustainability. They also want to "abolish the gatekeeper of history and establish a new economy", hoping to "give children in Dakar and Paris the opportunity to become influential fashion forces".
The door of fashion democratization seems to be further opening. Not only consumers are more likely to be exposed to cutting-edge design elements, but also a decentralization movement has been launched within the fashion industry.
Lacrosse said: "fashion has always adhered to the old-fashioned thinking and resisted future technology as a new way to avoid disturbing the original behavior." However, after the fabricant, digital fashion brands such as triple brand, auroboros and repuplique came one after another, becoming the backbone of fashion brands in metaverse. In the traditional fashion industry rules, prospective designers who intend to step into the threshold and shine do not have much choice – go to London, New York or Brussels to study, work for famous brands, and finally wait for the God of luck to come one day. Metaverse's world includes more non-traditional fashion designers or brands, which gives it the opportunity to rise rapidly, and even in turn provides reference for traditional brands.
This is just our common ideal, but at least for now, the prospect of small brands is still uncertain. When traditional fashion houses such as Ralph Lauren and Givenchy have realized the importance of metaverse, and even well-known designer brands such as JW Anderson and Guo Pei have begun to carve up the cake, the small brands in charge of independent designers may not have enough resources and budget to compete with it. The current business model of digital fashion companies such as the fabric – customizing digital fashion for the wealthy or becoming suppliers of big brands – has not escaped the discipline of the elite. As Liam Osbourne, a global customer partner of flux, the fashion and luxury department of digital production company media monks, worried in an interview with vogue business: "does it focus and highlight emerging talents, or is it dominated only by big players? If it just copies what happens in the real world, it won't be so interesting to me."
At the same time, top brands still maintain their leading position in the fashion discourse system with a conservative and cautious attitude. In today's changing metaverse, Chanel is still standing still, and even the clothing and leather Department has not yet opened the online retail channel. "If every product is presented directly to everyone, luxury goods will lose the unique feeling. After all, the cold electronic screen can not well convey the brand culture and spirit to consumers." Bruno Pavlovsky, President of chanel fashion department, said. Although herm è s has also stepped into the game market like a dragonfly, the infringement lawsuit against metabirkin NFT designer Mason Rothschild has also been noisy. In a letter sent by herm è s to Rothschild, the brand, which has always defended its scarcity and authority, expressed its position: "if herm è s wants to join metaverse, it will do it in its own way."
Let's put the time back more than a hundred years ago. At the end of the 19th century, new technology was regarded as the salvation of human life. The idea of Scottish sociologist Patrick Geddes is widely spread all over the world. He believes that new technology will reshape the operating rules of cities and villages as a way to get rid of a world dominated by excessive commercialization and money. But with the deduction of time, the ideal of technological utopia is broken.
At the end of last year, the fashion business review (BOF) and McKinsey jointly released a state of fashion 2022 report. The report shows that in 2022, the supply chain of the fashion industry will face unprecedented pressure, and digitization will provide the greatest growth opportunity for fashion enterprises.
Just as we can't explain where metaverse will go, we don't know what role the fashion industry can ultimately play in the virtual world. But at least, fashion brands have found a life-saving straw, trying to save their income model affected by the epidemic through marketing, e-commerce, scientific and technological products and immersive experience. In any case, the fashion innovation caused by metaverse is irreversible, and the era of Web 3.0 has come.

Special statement: the above article only represents the author's own views, not Sina's views or positions. If you have any questions about the content, copyright or other issues of the work, please contact sina.com within 30 days after the publication of the work.