At 19:00 – 21:00 p.m. on March 31, 2022, Mr. Tang Jiangshan, the author of "meet metaverse", was invited to attend the online public welfare sharing meeting hosted by the database Laboratory of Xiamen University.
About the author:
Mr. Tang Jiangshan is the initiator and practitioner of Yuandian; Tutor of metaverse business course; Founder of "future metaverse" platform; He has written blockchain reshaping the film industry and film reform in the digital age.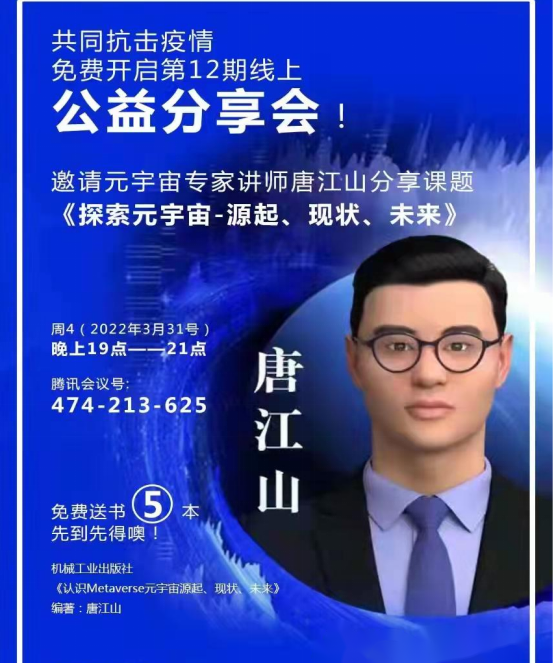 Mr. Tang Jiangshan wrote in the book "understanding metaverse": the explosion of the concept of metaverse is largely due to the brilliant performance of roblox and Epic Games in the capital market. Roblox, a large multiplayer game creation platform, has received eight rounds of financing of more than US $100 million before going public. It has long been the darling of the capital market. On March 10, 2021, roblox landed on the NYSE in the form of direct public offering (DPO), and put forward the concept of "metaverse" for the first time in the publicly disclosed prospectus. On the day of listing, roblox's closing price was $69.5, up 54% from its offering price of $45, with a market value of $38.26 billion, which has doubled several times compared with its valuation of $4 billion a year ago. Sitting on hundreds of millions of players, the average dau (number of active users per day) is used for more than two hours in a single day. Roblox, which provides a 3D digital platform for users who are both players and developers to enjoy playing, competing and socializing in the virtual world, tells the story of metaverse at the right time, which not only makes people feel ethereal, but also seems to throw out infinite reverie, making people pay more attention to the concept of metaverse than roblox itself.
In less than a month, with Facebook, Google and other technology-based enterprises taking place or taking action to enter metaverse, the influence of metaverse has further expanded, and the metaverse boom has been rapidly transmitted from abroad to China. Tencent, which also takes games as one of Tencent's businesses, reached strategic cooperation with roblox two years before roblox was listed. The two sides established a joint venture company roblox in Shenzhen and focused on incubating domestic creative ecology. In 2020, Ma Huateng of Tencent emphasized the future direction of Quanzhen Internet in his internal speech. Although the name of Quanzhen Internet doesn't sound as fashionable as metaverse, the hidden development directions of virtual reality, online social networking and Gamification coincide with metaverse. In September 2021, Tencent registered nearly 100 trademarks related to metaverse at one go, which can be seen from Tencent's attention to metaverse.
In terms of metaverse layout, byte beating is not inferior. In April 2021, byte beat invested nearly 100 million yuan in code Qiankun, a domestic metaverse game developer. The metaverse game "restart the world" developed by code Qiankun has been launched. In addition, the company is said to be developing a metaverse social product "pixsoul" internally or in the hope of creating an immersive virtual social platform. The traditional social platform soul has also made efforts to build a social metaverse. The IPO in June 2021 obtained a private placement of US $89 million (about 570 million yuan) of MIHA travel technology. In addition, metaapp, a domestic mobile sandbox Platform Developer quite similar to roblox, announced the completion of round C financing of US $100 million (about 640 million yuan) in March 2021, which is known as "the largest single financing of domestic metaverse". From games to social networking, from Internet giants to technology rookies, the domestic metaverse market is not lively.
In addition, the author of metaverse expert Fang Jun's metaverse super introduction and blockchain super introduction recommends that Tang Jiangshan's new book brilliantly describes the infinite possibilities brought by metaverse. " Feel the reality of the physical world and enjoy what is not in reality. " It is recommended that you read this book "understanding metaverse" and explore the metaverse world of a better future together.