Since 2021, metaverse has ignited the fire of virtual economy to a new height. As one of the core elements of the virtual economy and the "aborigines" of metaverse, the virtual human track is also "suddenly like a spring breeze overnight". Digital employees, virtual idols, virtual spokesmen and virtual anchor come one after another to attack the city strategically in the fields of social networking, media communication, marketing and traditional industries.
In fact, virtual human is not a new thing, and the layout of enterprises has long been deeply cultivated in China. As early as 2004, Ji Zhihui, founder of Shiyou technology, a virtual technology provider, and his partners established a virtual technology laboratory to study cutting-edge technologies such as data mining, graphics and image algorithms, workflow engine and real-time mobile capture technology, becoming one of the earliest high-level teams in China to develop real-time digital human technology.
Shiyou technology, which has accumulated and applied experience of full stack virtual technology for 10 years in the virtual human track, is undoubtedly the pioneer and attacker of the virtual human track. Compared with many current domestic peers, Shiyou technology can be said to be the first company to set foot in the virtual human track in China. It is understood that in January 2022, Shiyou technology completed the first phase of the ten million a + round of financing invested by Duowen capital. Since 2012, a total of 500 + virtual images have been revived.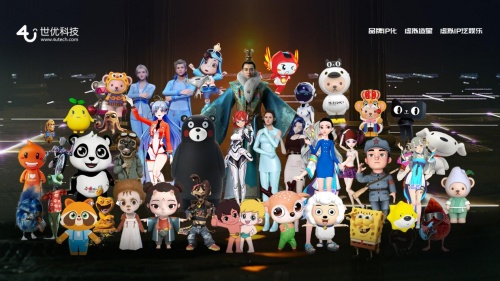 More than ten years of virtual human technology accumulation, overcome a number of technical difficulties
In 2011, the film Avatar was released in China. Ji Zhihui, founder of Shiyou technology, decided to start a business in the field of real-time digital people after understanding the technical means of motion capture behind it. However, there was no mature finger capture and face capture equipment at that time. Shiyou technology has formed a complete closed loop in virtual human technology in China from self-developed equipment to real-time synchronization between virtual human and actors, role binding, real-time processing and rendering.
In 2015, Shiyou technology company came into being and focused on the R & D and application of real-time virtual technology. It is one of the few self-developed platforms for virtual real-time rapid virtual content production and virtual IP production in China. As early as 2004, the core technical team of Shiyou technology has begun to take shape, which is composed of many senior experts in the industry, such as the doctor of graphics and image from Beihang and Peking University. After more than ten years of deep cultivation, Shiyou technology is in motion capture & amp; Expression capture, real-time animation generation, environment simulation and rendering, image processing, AR & amp; VR and other fields have a number of independent intellectual property rights and patented technologies. At present, it has obtained more than 20 national invention patents and more than 40 software copyrights. It is at the leading level at home and abroad in the field of real-time digital human and fast animation production.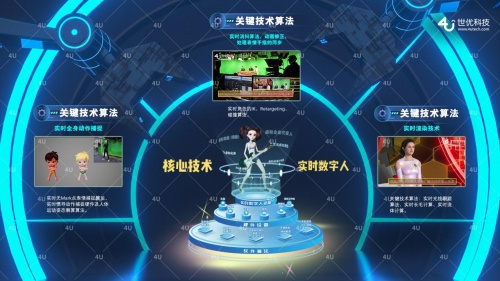 In terms of the synchronization mechanism between virtual human and engine, this is the key core technology of making realistic real-time virtual human. This technology needs to realize the real-time synchronization mechanism of virtual human image and actor's whole body data. However, before that year, this technology was not set foot in China.
In the research and development process, Shiyou technology began to explore from the role binding specification how to correctly drive the virtual image, including solving various problems such as algorithm redirection, environmental robustness and so on. In addition, the camera tracking function is specially developed to enable the real-time linkage between the virtual camera and the real camera, and solve a series of problems such as tracking protocol, calibration and use method.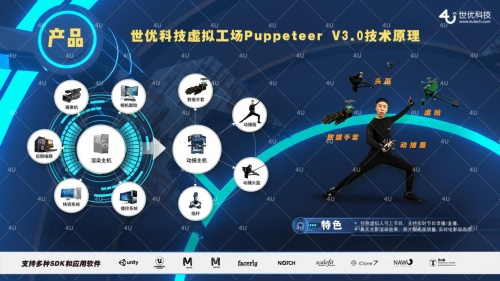 The combination of real-time motion capture technology and inertial motion capture clothing and data gloves
At the beginning of its establishment, Shiyou technology mainly served the radio and television industry. These include services. In 2013, Michael Jackson appeared on the avenue of stars, which is the earliest virtual person in the country to appear on a variety show. After that, Dongfang satellite TV's "fun" appeared on the "post-80s talk show" in 2013, Zhejiang satellite TV's "Suning little lion" and Xu Zheng appeared on the "food in the embarrassing way" in 2016, the virtual players of CCTV's "big family feast" in 2016, and CCTV whale and cloud AR in 2017 were all benchmark cases of Shiyou technology. Then, some real-time matting synthesis technologies of Andy Lau were provided in the "rise of cattle" program of CCTV Spring Festival Gala in 2021. In 2022, provide real-time ar technical services for the fourth national king glory competition. This successful and vivid display of virtual technology reflects its deep and solid foundation in virtual technology over the years. Among them, digital people have resurrected 500 +.
At present, the competition pattern of virtual digital human is not mature. Although the number of players is growing rapidly, the head companies with considerable strength are still relatively limited due to the high requirements of the industry for comprehensive technical strength. As a pioneer, Shiyou technology positions itself as a "virtual human technology provider" and provides lightweight virtual technology solutions for end B.
In terms of establishment time and service direction, compared with the domestic head virtual technology company, Shiyou technology was established in 2015, which was established earlier. It provides full stack virtual technology solutions, which belongs to symbiosis or upstream and downstream relationship with competitive products companies. Magic enamel technology was founded in 2018, mainly providing CG production services and virtual IP image production and operation. Founded in 2018, Guangzhou Chuanghuan mainly provides TOC's virtual live broadcasting software R & D and virtual performance suppliers. Zhongke Shenzhi was founded in 2016 and focuses on AI virtual anchor and live broadcast applications.
Some industry analysts have said that the popularity of "metaverse" concepts such as virtual products and virtual people essentially hides the expectation of capital for the iteration of Internet technology. The development of digital virtual human is closely related to the progress of its production technology. From the earliest manual drawing to the current CG and artificial intelligence synthesis, digital virtual human has high technical requirements for the enterprises behind it.
Over the past ten years, it has "revived" 500 + IP and grasped the core assets of virtual human business model
In terms of business model, Shiyou technology mainly serves software and hardware systems and technical production services. It includes virtual content customization, original painting design, three-dimensional modeling, binding, animation production, real-time driving of dynamic capture, real-time lighting material / rendering / solution / special effects, post synthesis, rental and sale of dynamic capture equipment, technology on-site implementation, and rental of virtual studio site.
The core technologies of the company are real-time digital human technology and virtual studio technology. Among them, real-time digital human technology can "move" the virtual image in real time through "dynamic capture technology", so as to make the static virtual image have real-time interaction ability, that is, "IP resurrection".
Up to now, Shiyou technology has accumulated more than 500 "resurrected" virtual IP images. In addition to reaching in-depth cooperation with CCTV, Phoenix Satellite TV, Oriental satellite TV, Hunan Satellite TV, Zhejiang satellite TV and other radio and television customers, it has also become an Internet company to provide technical services, including Netease, Huawei, Xiaomi, Baidu, Tencent King glory, Taobao, tmall, Suning, music, headlines, cool dog, Youku, etc.
Service brands include Yili, China Internet Conference, bigo, Lenovo, China cartoon image marketing conference, China Mobile, listening culture, demon catching, stiff fish, QiLu TV, iFLYTEK, TCL, lutes, L'Oreal, lifuquan, etc.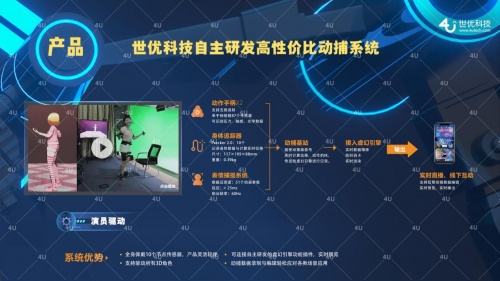 It provides full-body high-precision motion capture capability, which can meet different application scenarios
With the explosion of metaverse concept, Shiyou technology has produced multiple virtual images of head stars, which provides the basis for the separation of metaverse for star brand marketing.
At present, Shiyou technology combines its self-developed mobile capture technology, precision algorithm technology, real-time animation technology and AI virtual live broadcasting technology, coupled with cloud real-time rendering, to present the image, action and expression of virtual live broadcasting characters with high quality. At the same time, it realizes real-time live broadcasting interaction in video and offline scenes, which has been applied in major scenes such as radio and television, education, culture and entertainment.
Explore the C-end and explore more virtual human application scenarios in the future
At present, Shiyou technology continues to expand the metaverse industrial chain. In January 2022, Shiyou technology, which has always taken the b-end business as the core, completed the first phase of the ten million a + round of investment of Duowen capital, which will build a "metaavatarshow" metaverse stand-alone show platform and start to work on the C-end. It is reported that this round of financing will be divided into three phases. At present, the first phase of ten million level financing has been completed, and the second round of financing is being carried out simultaneously, which will be led by the old shareholders. The rest of the investment will be carried out in the third phase, and the total amount of this round of financing is expected to be 200 million.
In terms of enterprise qualification, Shiyou technology won the honorary title of "specialization and innovation" in Beijing and was elected as a member of the metaverse Industry Committee of China Mobile Communications Federation (cmca-mcc), the only national social organization in the field of mobile communications in China. The list was published in the Sixth Batch of member units and was a member of the organization together with five listed companies at home and abroad.
In the future, Shiyou technology will continue to improve the technical capability of virtual human products, cooperate with more high-quality partners, jointly promote the sustainable development of virtual technology and maintain the leading position of virtual human technology in the market. Shiyou technology will be ready in the digital virtual human industry, and the future can be expected.
Sina statement: Sina's posting of this article for the purpose of transmitting more information does not mean that it agrees with its views or confirms its description.