No one can refuse Dunhuang, let alone resist Dunhuang metaverse! At 18:00 p.m. on March 24, digital collectors released the first batch of limited digital collections of Dunhuang metaverse – 3D sculptures of flying ladies, which were sold out when they went online. The scene was very popular. Collectors shouted "no seconds!!!" "I didn't get it!".
As we all know, Dunhuang Grottoes are a splendid art treasure house of ancient Chinese civilization. The long-term survival and sustainable utilization of its cultural heritage has always been the goal we have been pursuing. The "Dunhuang metaverse" released by digital collectors is born for this purpose. It is reported that "Dunhuang metaverse" is a series of Dunhuang art collections officially authorized by Dunhuang Cultural Tourism and created by the wave making team. This series will be released on the digital collector platform one after another.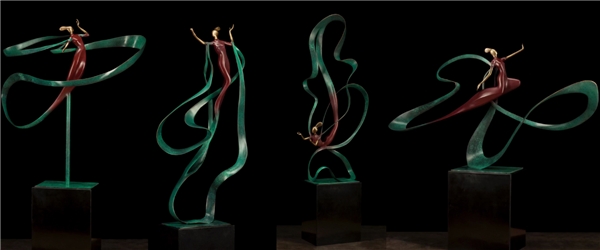 The freehand 3D sculpture of Dunhuang Flying ladies, the first special edition of "Dunhuang night market" released this time, is divided into four shapes: "lighting", "picking stars", "Tuolian" and "running to the moon". 1000 copies of each shape are sold, a total of 4000 copies. Each 3D sculpture is a unique digital collection with an independent number and will never be reissued. "Dunhuang metaverse" series will launch more Collection Series in the future, and will also give users more linkage playing methods and rights of Dunhuang metaverse.
Freehand 3D sculpture of Dunhuang Flying Ladies (from left to right: "guiding light", "picking stars", "Tuolian" and "running to the moon")
As the world's first platform for the "Dunhuang metaverse" series of digital collections, the digital collectors team is committed to establishing a safe and reliable digital collection trading platform for digital collectors all over the world. The inheritance and integration of culture and the innovation of science and technology will bring the coolest experience to the majority of users. The author learned that previously, the digital collectors also released the "Temple of heaven metaverse zodiac series" and "animal city" series. The first product of the digital collection "ice tiger" and the first product "phantom female bear" of "phantom series", etc. In the future, digital collectors will also focus on Chinese traditional culture, combine digital art with Chinese culture, and successively launch a variety of playing methods such as blind box and digital collection synthesis, so as to greatly promote the transaction liquidity of traditional collections and empower the digital economy for traditional culture and art.
[Disclaimer: This article is reproduced and published by this website for the purpose of disseminating business information, and does not represent the views and positions of this website. All rights and legal liabilities of the text, pictures, audio and video materials involved in this article belong to the material provider. This website makes no guarantee or commitment to the authenticity of all information such as text and pictures, nor does it constitute any purchase, investment and other suggestions, so the operator shall bear the risk. Please contact us if copyright and other issues are involved, and we will delete them immediately.]
Leave a comment
Cancel reply