In February this year, an online travel company launched the "3 + 2" mixed office mode, which allows employees to choose 1-2 days of remote office every Wednesday and Friday. In the process of implementing this "3 + 2" mixed office mode, there is no distinction between men and women, value posts and salary adjustment.
Yesterday (March 24), Netdragon network (00777. HK) also officially announced the company's implementation of "no need to enter the company's office mode". What is the difference between this mode and the "3 + 2" mixed office mode? What is the reason why Netdragon will launch such an office mode? To this end, Tianhu technology online interviewed Xiong Li, CEO of Netdragon.
Conform to the trend
"No need to enter the company office mode" may become a popular phenomenon
In recent years, novel coronavirus pneumonia has affected the global office. Flexible working system and home office have become a normal way for some enterprises to maintain the operation of the company. Amazon, Google, Microsoft, apple and other leading high-tech companies have normalized and institutionalized telecommuting.
On October 15 last year, gitlab, a company with no office and complete remote operation since its establishment, was officially listed on NASDAQ in the United States, issuing 14 million shares at the price of $77, up 35% on the first day of listing. The company covers more than 1300 employees in more than 65 countries and regions. For a long time, the company has been working online at home through tools such as zoom.
Gitlab mentioned in its listing document: "remote operation enables us to enjoy the global talent pool, so that we can hire top technology team members all over the world, so that the enterprise can maintain a strong competitive advantage for a long time".
Under the normalization of the epidemic, Netdragon has formulated a remote office cooperation plan, and Netdragon employees have started home office for several months. Mature remote office system and electronic basic conditions have become the basis for supporting remote office, which also provides support for Netdragon's implementation of "no need to enter the company office mode".
"The so-called 'no need to enter the company office mode' actually means that work will no longer be limited by time and space. Employees can leave the office and decide to work in a more efficient and comfortable place." Xiong Li said that employees can independently choose what they are interested in and good at. "Taking affairs as the core" will be thoroughly implemented and implemented in Netdragon metaverse organization.
A recent survey shows that flexible employment is becoming more and more acceptable after 90 and 00. The proportion of flexible employees in these age groups has exceeded 50%, mainly focusing on Internet related jobs, which need creativity and independent orders. "This also shows that the metaverse organization independent office mode we have implemented is in line with the development trend of the times. When we become the backbone of society after 00 and 10, the office mode of receiving orders freely and without entering the company should become a phenomenon of social popularization." Xiong Li said.
New experience
Immersive office, meeting can also be "metaverse"
The most basic feature of online collaborative office is that SaaS technologies such as cloud computing and cloud storage are applied to office software. Users can use mobile applications, computer software or web pages to realize online document editing and collaboration, remote video conference communication, process approval and other online office scenarios.
The development of cloud based computing and meta / vers can not only stimulate the development of employees' creativity, but also bring the development of cloud based computing and meta / vers to the lower level of the work chain.
In VR / AR, AI, big data and other fields, Netdragon has explored for many years and has profound technical accumulation. Since entering the field of education in 2010, Netdragon has been laying out the digitization of educational content and educational resources, teaching experience and virtualization of teaching process. The AI courseware developed has covered the main disciplines of domestic primary and junior middle schools. The virtual experimental teaching service system for primary and secondary schools jointly launched with the central audio-visual education center has covered 31 provinces (autonomous regions and municipalities directly under the central government).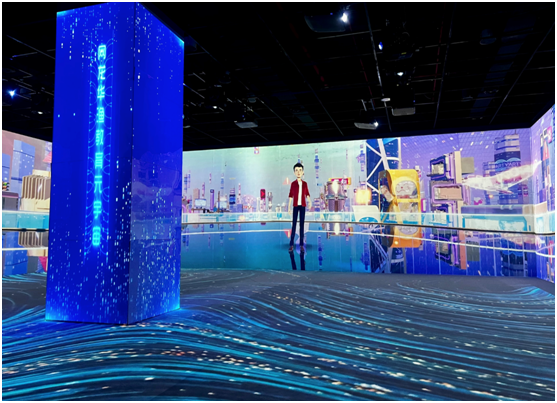 Talking about the difference between the "3 + 2" mixed office mode and the "company free office mode" launched by Netdragon this time, Xiong Li said that Netdragon's "company free office mode" relies on the mature transaction tool platform and Netdragon metaverse platform. The transaction tool platform will realize the whole process management of independent claim, circulation, production, delivery, acceptance and settlement of transactions, while Netdragon metaverse will greatly promote the communication of employees at work. For example, employees can organize more immersive metaverse meetings. Xiong Li further stressed that these changes will bring more distinctive experiences than the "3 + 2" model.
"Based on the organizational strategy of Netdragon Huayu education metaverse 'everyone participates in creating and everyone enjoys value', Netdragon hopes to attract more excellent talents to join." When talking about the reason why Netdragon will launch such an office mode, Xiong Li said.
It is expected that in May this year, Netdragon will take the lead in launching version 1.0 of metaverse organization, releasing the project official website, and the first batch of pilot project information, education encyclopedia and boutique competitive product library will be displayed. In the future, Netdragon metaverse instant messaging tool (IM) and metaverse space will be presented one after another, looking forward to a more colorful metaverse life.
Tianhu technology Gaolu