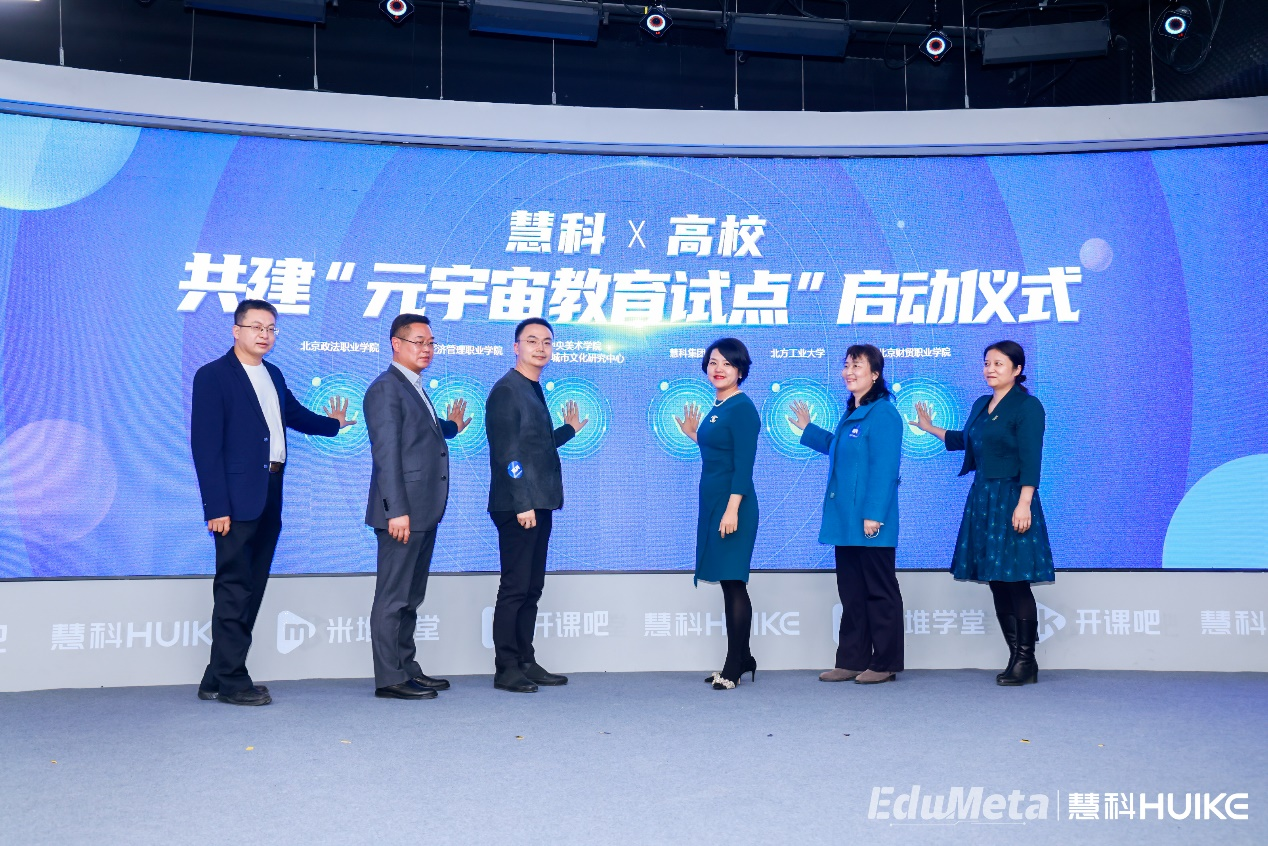 On March 22, the innovation forum of "metaverse ignites education" and the unveiling ceremony of Huike metaverse education experience center, sponsored by China education innovation school enterprise alliance, undertaken by Huike group and co organized by class bar, Shangdong Digital Valley and metaverse education laboratory, were held.
At the event, Huike group announced that from now on, it will solicit 20 colleges and universities nationwide to jointly build a college metaverse education pilot, and held a launching ceremony at the event site with five of the first batch of pilot colleges and Universities: Northern University of technology, architecture and urban culture research center of the central Academy of fine arts, Beijing Vocational College of Finance and trade, Beijing Vocational College of economic management and Beijing Vocational College of politics and law.
Metaverse education experience center is jointly built by Huike, Kaike bar and Shangdong digital valley
Yue Xiwei, co-founder, chairman and CEO of Huike group, introduced that metaverse education experience center was jointly built by Huike, Kaike bar and Shangdong digital valley. He pointed out that Houchang village where Shangdong Digital Valley is located, as a highland of the Internet industry, is the forefront of national scientific and technological innovation. The establishment of an experience center here is conducive to Huike to better realize the high-quality connection between industry and education and promote the integration of industry and education.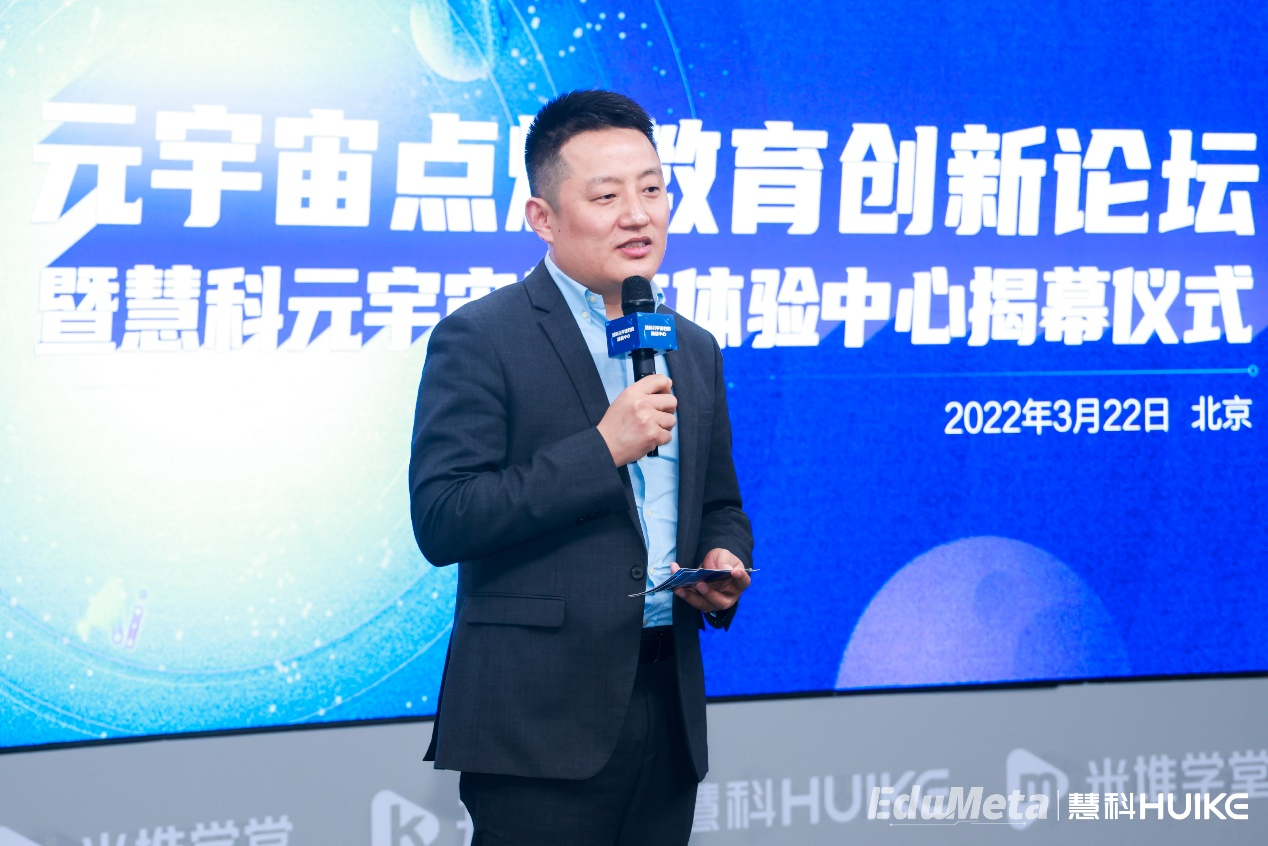 Yue Xiwei, co-founder, chairman and CEO of Huike group
When it comes to the reasons for the establishment of metaverse education experience center, Yue Xiwei said: "now when we look at metaverse, we seem to be able to make it clear, but we don't seem to make it clear. At this time, Huike will build a platform for friends in the industry and education to promote the implementation of the most cutting-edge technology, so that everyone can 'see clearly' first and better explore its application in the educational scene."
He believes that the emergence of a new technology will have a dual impact on education. The first important impact is that the development of this new industry urgently needs talents who understand this field. "In the past 12 years, the core things Huike has done have been carried out around this." Another important influence is how to apply these technologies to promote or change education and improve the efficiency of learning and teaching, which is also the starting point of the design of the experience center.
It is reported that, relying on the 5g technology, we have invested more than 4 million square meters to realize the integration of metaverse live broadcast and art experience, with a total of more than 4 million square meters. Based on teaching and artificial intelligence, Internet of things, human-computer interaction, cloud computing and other technologies, combined with digital twin technology and vr virtual reality technology, the experience center aims to provide intuitive experience for people who want to personally understand and feel the application of cutting-edge technologies such as virtual reality and VR simulation in the field of education.
Using metaverse related technology to serve colleges and universities for digital talent training
Dr. Chen Ying, partner of Huike group, Chief Strategic Officer and President of Huike Research Institute, introduced the implementation and application of metaverse in the field of education. He shared the six "I" perspectives of Huike under "metaverse + education" – emphasizing immersion, interactivity, imagination, the connotation of education, the sublimation of knowledge and the analysis of intelligence.
Dr. Chen Ying, partner of Huike group, Chief Strategic Officer and President of Huike Research Institute
Chen Ying introduced Huike's metaverse education solution, and took the cooperation cases of digital twin campus of Shanghai University of science and technology, XR laboratory construction of Northeast University and Jinan Vocational College, virtual simulation experiment of media image Defamiliarization in Zhejiang, virtual simulation experiment of air and space defense radar of Beihang as an example to show how Huike uses metaverse related technologies to serve colleges and universities for digital talent training.
Specifically, in the fields of mechanical disassembly, automobile maintenance and brain structure display, Huike's metaverse education solution can restore the structure of solid model through three-dimensional modeling; In the fields of psychological stress response and virtual speech training, the physiological state of students in different situations can be analyzed through external skin electrical tester and other equipment; In radar principle analysis, television media, civil engineering and other disciplines, virtual simulation experiments that meet the requirements of gender equality can be constructed.
"The integration of digital intelligence improves the quality and governance mode of higher education, and the integration of production and education cultivates students' compound ability and digital literacy. This is the 'two wheel drive' mode of Huike," Chen Ying said. Huike not only does education, but uses "two wheels" to drive the overall improvement of education in the whole ecology. "Only by applying our better technical model to the educational scene can we meet the educational needs of such a large volume."
Chen Ying believes that this is a rapidly rising market, from cooperating with colleges and universities to building virtual simulation gold courses to jointly building metaverse education pilot projects. He told mustard heap that colleges and universities have a strong driving force to seek cooperation in this field. Huike has cooperated with many schools in the past to do Mu classes and virtual simulation classes, and the co construction of metaverse education is actually a natural upgrading process.
"Originally, Huike only does it, big data, cloud computing and artificial intelligence. In metaverse education, the scope of courses we do is more extensive. It will no longer be limited to engineering, but can be done in various disciplines and categories such as medicine, sports and art." Chen Ying revealed.
With regard to the application of metaverse in vocational education, Chen Ying mentioned that because students of vocational education often need to contact with production tools, "metaverse + education" can further promote their skill acquisition in the immersion environment, and the application space is very large.
"There are always some industries that will take the lead in embracing digitization and metaverse, and education is one of them."
At the forum, expert representatives from education and industry jointly discussed the development trend of metaverse cutting-edge technology, and displayed the scientific and technological achievements of "metaverse + education" and its application in different scenarios.
Professor Shenyang, executive director of the new media research center of the school of journalism of Tsinghua University, explained the development, expanded application and future value of metaverse. He introduced the three properties of metaverse: 1 Time and space expansion. When students sit in the classroom, they need to expand a lot of information; 2. Man machine integration is the integration of virtual human, natural human and robot; 3. Economic value-added. After the content produced in the process of education is materialized, it will be digital products.
Dr. Dai Ruoxin, co-founder and CTO of Beijing nuoyiteng Technology Co., Ltd., pointed out that from the past 30 or 40 years to the present and future decades, digitization continues to occur and is irreversible. When facing these new concepts of metaverse, what we need to do is to actively embrace it, understand it, and spread it to more people through educational power.
"Metaverse is the end of digitization, but it is not achieved overnight. It is based on the physical world. It needs to go through demand stratification and industrial division, and can be assembled into a complete grand plan like a puzzle. Its landing should be bound with the demand, and those who do education will provide a complete solution for education." He said that one of the first industries to embrace digital education is metaverse.
Yu Jinyong, Secretary General of metaverse education laboratory and partner of Zhongguancun education investment management, said that the most potential direction of metaverse application may be in the field of education. In metaverse, the learning effect will be greatly improved through immersion and interaction to stimulate interest. He believes that the learning education in metaverse may be in the middle of online education and offline education. "Metaverse in the future is a big classroom."