This article is transferred from: Beijing Business Daily
"People think I'm old at home. In fact, I earn tens of thousands of yuan a month by pinching my face.". Most of the face pinchers on soul platform are as dramatic as the story of "seven small bags": the "zebai" with a maximum monthly income of more than 50000 yuan and the "heard" of his apprentices have become face pinchers. Engineers who deal with artificial intelligence, algorithms and models all year round have also learned some "beauty knowledge that they don't know if they will be useful in the future" in order to pinch the face function.
From online games to social applications in Z era (the generation born between 1995 and 2009), the face pinching function of "niche" shows great signs of standard configuration of metaverse application, and also brings imagination space to face pinching + artificial intelligence and face pinching + blockchain. More importantly, metaverse has more small and detailed life footnotes from hustle and bustle to precipitation, and those grand business narrative visions.
No art foundation, play a pinch face order
"It's the end of 2019 to pinch the face. At that time, there was no face pincher. I first pinched my avatar, and then sent the pinched work to an instant (soul is similar to the function of a circle of friends). Some friends asked me to help pinch it if they like". I heard that I didn't expect to make money by pinching the face. Later, I became a face pincher because I "thought about it myself without learning or art foundation".
I heard that pinching the face refers to a function launched by soul. At the beginning of 2019, this social app, which does not support uploading real-life avatars, launched the "super cute face pinching" function, providing creative materials including facial features and headwear. With tools and a large number of users who like personalized avatars, this new profession of face pincher gradually appeared.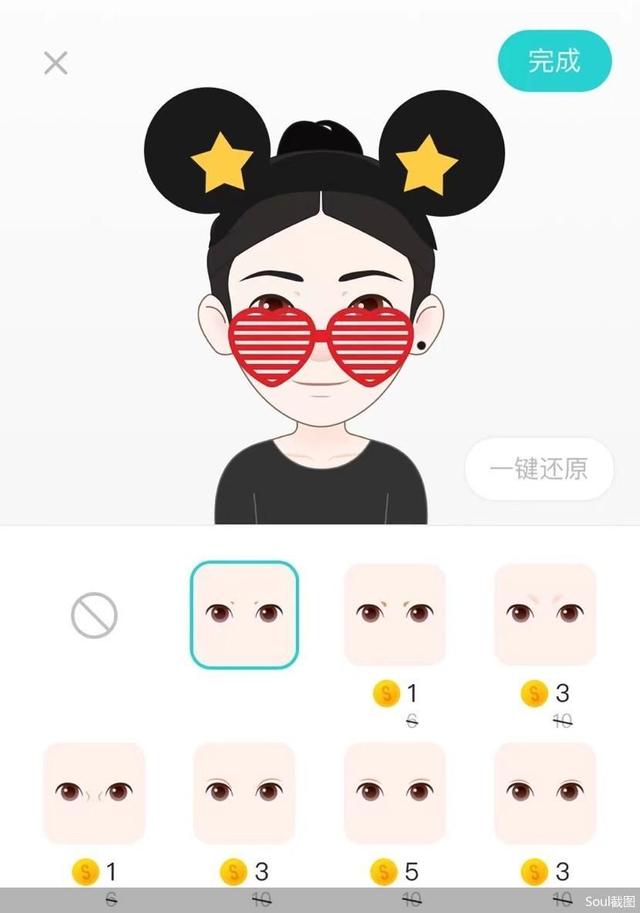 Now I've heard that he has his own face pinching process. "A simple, fixed style avatar can be pinched in 20 minutes. A creative avatar takes half an hour to an hour". Now he also takes a former customer as an apprentice.
Recalling his experience of pinching his face, he told the Beijing business daily, "at the beginning, pinching a avatar took a lot of energy. It was common to spend a few hours, so my friends who came to pinch my face would give me some milk tea and takeout. At that time, there was no official channel to trade". I heard that I still remember the first paid face pinching order, "it's a girl. I charged 30 yuan for that Avatar".
This price is also the price of most virtual avatars in soul personalized shopping mall.
According to Che bin, soul's product director, "the personality mall was opened to face pinchers by soul at the end of June 2021. Face pinchers can sell their own avatars in shopping malls and obtain distribution". The reporter of Beijing business daily logged into soul personality mall and found that the virtual avatar sold has three prices: 180 yuan, 300 yuan and 420 yuan. It is converted into 6soul yuan according to 1 yuan, that is, 30 yuan, 50 yuan and 70 yuan.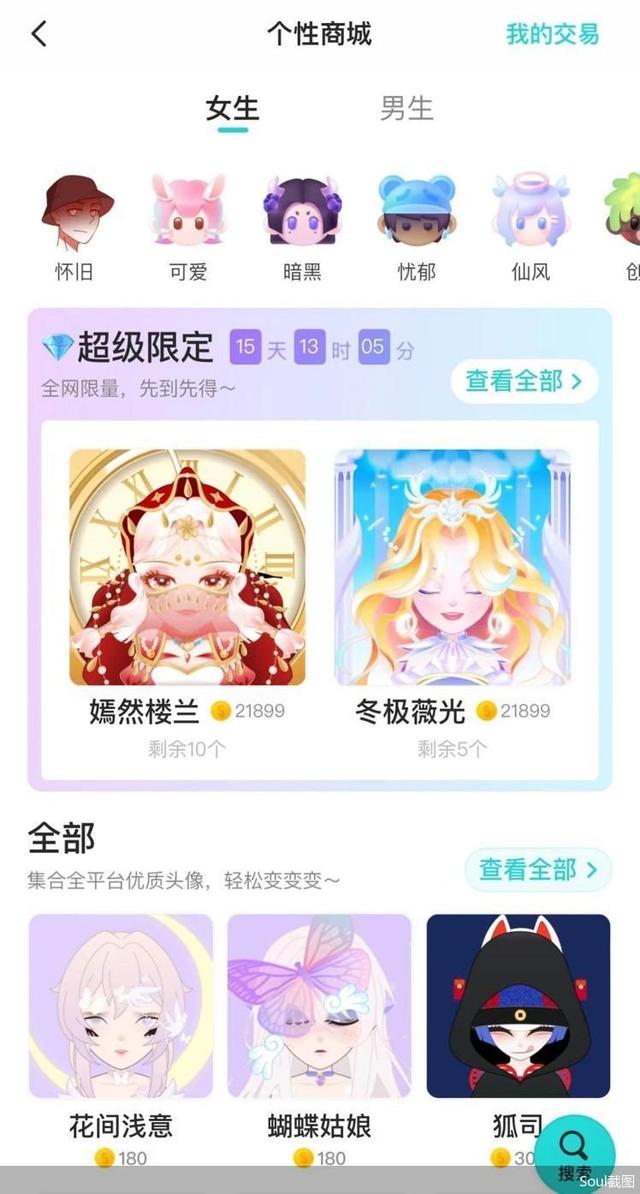 "The price of virtual avatars is set by the face pincher and reviewed by the platform," Che bin told the Beijing business daily. "As of March 1, the total number of avatars in soul personality mall is nearly 30000."
In addition to soul, which is an official trading platform, there are many face pinchers on the e-commerce platform. E-commerce sellers who rely on "reselling" to pinch face data welcomed N-wave customers, from 0.15 yuan for a "face", 7 yuan for packaging 2000 "faces", to 100 yuan for customization, but they couldn't think of it.
However, on the e-commerce platform, what is more popular is the face pinching data and services of online games. Products such as "against the cold", "sword net 3" and "eternal robbery" are popular. On the social platform, there are many posts and groups sharing face pinching data.
Su Lin (a pseudonym), who once "asked" for face pinching data on the social platform, told the Beijing business daily, "it doesn't cost money to find resources on the social platform. Some data are a data package, some are a group of numbers, and there are two-dimensional code forms. Different games have different ways to import face pinching data".
Will engineers also study beauty videos?
"We support three face pinching data import schemes, including text, local data and cloud disk data import", the relevant person of Netease's game project team against the cold water told the Beijing business daily, "like local data import, the file format of face pinching data is'. Dat ', players can download it to their own computer, and then select the file in the game to import". This is also the more common data format and sharing method of "against the current cold" found by the reporter of Beijing business daily in the social app group.

Xu Dan, vice president of perfect world games, has long noticed that users will share face pinching data. "Now many games can export the face pinching results of clients into corresponding data, and then convert them into code scanning or other convenient ways to realize the function of online sharing and quick face pinching. Perfect world products have also realized this function for a long time.". According to Xu Dan, "at present, the face pinching function is basically the standard configuration of MMORPG".
In fact, face pinching was born in online games. Sword net 3 launched by Xishanju in 2009 was all the rage because of face pinching. Zepeto, the "3D version of cute face" launched in 2018, has long dominated the top 10 of the app store in China, and "cold against the water" tested in the same year even held a national face pinching competition. At present, the popular gel that has fallen into doubt and the rainbow universe that attracts a large number of "virtual real estate speculation groups" have the function of pinching faces. More broadly, Apple's escalating quasi self expression belongs to the category of pinching face.
Beijing Business Daily reporter experience found that the difference between these functions is that the face pinching function in online games provides richer materials and more adjustable details, and generally presents 3D effects, while the face pinching function on social platforms is more 2D, and the face pinching operation is more stupid.
In this regard, Liao Xuhua, a senior analyst of Analysys analysis cultural consumption industry, explained to the Beijing business daily, "the fineness of kneading face is matched with the whole virtual system. A heavy game has more space to carry a high level of kneading face, and the current social application, whether in content system or image level, lags far behind, which is not only the technical level difference of manufacturers, but also the level difference of the whole product system".
Taking "cold against the water" as an example, the adjustable facial details include 9 items such as forehead and Yintang, and the adjustable makeup includes 10 items such as eyebrows and lipstick. Taking lipstick as an example, there are nearly 30 styles and 30 colors. Users can create different virtual images by adjusting the values of various data. This form is called "holding the face with bare hands" by relevant people of the project team of "against the cold water", and "holding the face with bare hands" is a way loved by players ".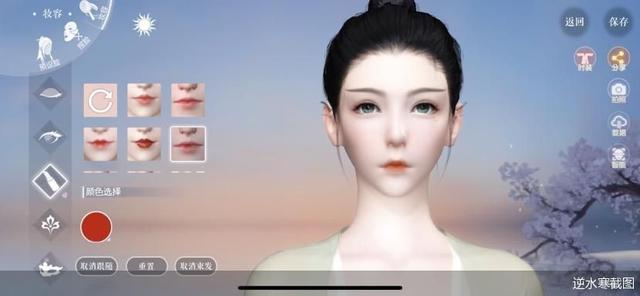 Talking about the cooperation with "cold against the current", Shenxiu, head of Netease Fuxi visual computing group, said, "the game side found us and hoped that we could automatically analyze the facial features of the player according to the photos uploaded by the player through AI technology, adjust the parameters, and then generate a three-dimensional image with the highest similarity as possible with the photos".
"Before I did the project, there were some unexpected situations, such as before, I could hardly imagine that we would go to the beauty videos with a bunch of straight men. There were so many steps in makeup, such as what eye shadow, blush, concealer, and dressing…"
Virtual human, metaverse and z-era users
"Of course, the face pinching function of some apps adopts fool operation, which is also based on the consideration of promotion. If you directly show a very complex and fine face pinching system to users who have no experience in serious game face pinching, it is likely to lead to large-scale persuasion", Liao Xuhua added.
Cheng Xin (a pseudonym) is "going into the pit" through stupid apps such as soul, rainbow universe and gel. "I like to pinch my face because it's like 'electronic plastic surgery' to make myself. I prefer the pinch function of soul, gel and Sims. I can pinch my hand. The quasi me expression of iPhone can let me play for most of the day."
Like Cheng Xin, what kind of user portrait do users who are keen to pinch their faces have? According to the data provided by Che bin, "The users who buy virtual avatars are mainly from the first and second tier cities, accounting for more than 44%; they are mainly users aged 18-27 (i.e. Z era), accounting for 50.4%. Next, soul will continue to upgrade the co creation plan, which includes more personalized creation scenes and tools such as' guard 'Avatar decoration, clothing and personal homepage, as well as providing more open systems and perfect access standards.".
Xu Dan also told the Beijing Business Daily that "perfect world plans to provide more personalized and digital services in the future".
In terms of talent reserve, it is easy to see that the two companies attach importance to the function of pinching face. On the Drago recruitment website, soul and perfect world are currently recruiting for positions related to face pinchers. According to the recruitment demand of perfect world in the pull hook recruitment, the position responsible for the design of functions related to face pinching and dressing, "familiar with two-dimensional animation and games, familiar with all kinds of virtual social products, familiar with virtual idols, vyou, cub and other products, in-depth users are preferred".
When it comes to the team size and time required to realize a face pinching function, "to do a simple 3D face pinching function, it probably needs an experienced art and program team of 3-5 people, which takes about 2-3 weeks. If you want to do a more detailed face pinching function, it will take a longer time, depending on the detailed requirements of each different project", Xu Dan told the Beijing business daily.
It is worth noting that the current social apps with face pinching function are more or less related to metaverse. For example, soul's slogan is "young people's social metaverse", rainbow universe thinks it is "3D virtual social product based on blockchain technology", and gel is positioned as metaverse app. On the pull hook recruitment page, the perfect world's face pinching and dressing position is also accompanied by the words "metaverse".
So what are the possibilities of combining "pinch face" technology with metaverse?
Jiang Zhaosheng, senior researcher of Ouke cloud Chain Research Institute, believes that face pinching technology can help players create a unique character image. In the metaverse scene, face pinching technology will also become a necessary action for participants before entering metaverse. They can create a virtual image with personal characteristics by freely defining features such as appearance, hairstyle and clothing. While improving the participants' sense of immersion experience, it is also expected to improve the digital identity system, which can promote the ecological prosperity of metaverse.
Specific to the blockchain, one of the top-level technologies of face pinching metaverse, "by creating an identity certificate based on blockchain technology, each 'pinched' virtual image will be labeled with an identity tag, so as to solve the problem of virtual identity recognition in metaverse", said Jiang Zhaosheng.
Beijing Business Daily reporter Wei Wei