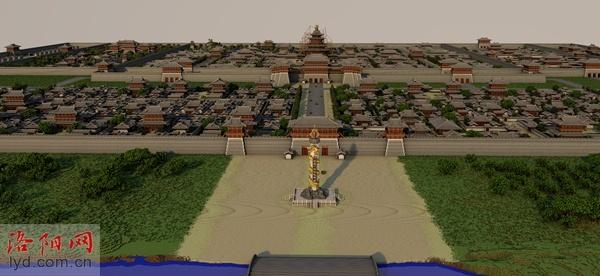 Tianjie, Tianshu, paradise, Mingtang, Yingtianmen, jiuzhouchi… Recently, 19 "post-00s" from all over the country have built exquisite landmark buildings of Luoyang City in Sui and Tang Dynasties through the electronic sandbox game "my world" for nearly a year, depicting a magnificent scene of prosperity.
Spontaneous formation of "construction team" members are "after 00"
Through the video "walking" into this "pixel style" Sui and Tang Luoyang City, whether it is a magnificent palace or exquisite street view, it is inevitable to be admired. This is a digital work of voxel Luoyang created by frame wood production group. It is understood that the production team of the project has 19 people, from all over the country. Most of them are "Post-00" high school students or college students, who are players and netizens spontaneously organized together due to common preferences.
Liu Wenqi, the leader of the project, introduced that in the game of my world, players can freely create buildings in three-dimensional space with small blocks as units, so many players will form a team to create large-scale group buildings with collective strength, and "create" a favorite "metaverse" as they want.
Why do you think of "building" a Luoyang City in Sui and Tang Dynasties in the game? Liu Wenqi said that since last year, literary and artistic works about Luoyang have almost "brushed the screen". Although he is from Sanmenxia, he grew up in Luoyang and felt that he also had the responsibility to publicize Luoyang's long history and culture. Therefore, after discussing with the team, everyone unanimously decided to build a prosperous Luoyang City in Sui and Tang Dynasties.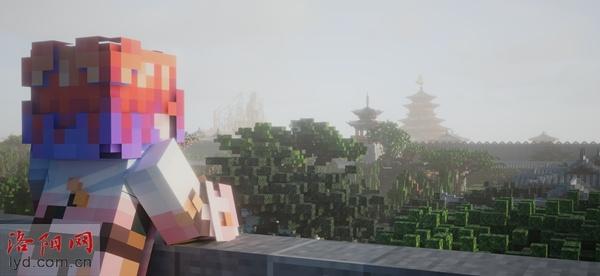 It took nearly a year to reproduce the "prosperous Sui and Tang Dynasties"
It is not difficult to know, but difficult to do. Liu Wenqi said that because the team members are not from Luoyang, many of them also contact and understand Luoyang City in Sui and Tang Dynasties for the first time through this project. They have no idea what to "build" Luoyang City in Sui and Tang Dynasties in their hearts.
"It took us about half a year to prepare from the project approval to the start of construction." Liu Wenqi said that during the first six months of the project, everyone was collecting text and image materials about Luoyang City in the Sui and Tang Dynasties. The Luoyang Municipal Committee of the Communist Youth League also provided the team with many documents and archaeological reports that could not be found on the Internet. At the same time, as the person closest to Luoyang in the team, I went to major scenic spots and museums in Luoyang many times and took many photos as materials.
After completing the preliminary preparation, the team organized an offline meeting in Hunan to exchange ideas face to face. "Last September, our Sui and Tang Dynasties Luoyang city fell the first square." Liu Wenqi said that the team has formulated a detailed "construction plan" and schedule, and everyone will "go to work" on time every day. In this process, everyone turned their love of the game into their yearning and love for Luoyang, and expressed that they must "punch in" in Luoyang when they have the opportunity.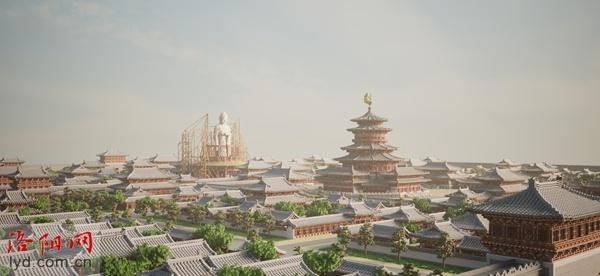 Animation production, open server and enjoy the "metaverse" of Luoyang in Sui and Tang Dynasties
"At present, we have completed the construction of the area north of the Luohe River." Liu Wenqi said that in the next step, the team plans to continue to "build" the Lifang District of Sui and Tang Dynasties south of the Luohe River, integrate some landmark buildings of modern Luoyang, and create the Luoyang City of "ancient and modern integration" in their hearts.
Liu Wenqi said that the team has made a video of some of the completed buildings and uploaded it to station B (BiliBili website, a cultural community and video platform highly gathered by Chinese young generations). In just a few days, it has gained more than 100000 views. Many netizens are under video comments and bullet screens (comment subtitles pop up when watching the video on the Internet), Expressed his love for Luoyang's history and culture, as well as his encouragement and expectation for the production team.
In the face of netizens' "urging change (urging update)", Liu Wenqi said that at present, the team is writing scripts and will make animation works to tell the historical and cultural stories of Luoyang against the background of the "built" Luoyang City in the Sui and Tang Dynasties. They will also open the server, so that all players can swim in this "metaverse" of Luoyang in the Sui and Tang Dynasties, and experience the prosperity of Luoyang in the Sui and Tang Dynasties from the first perspective. (Luo Bao financial media · Luoyang network reporter Liang Xiaoyu text / picture)
【