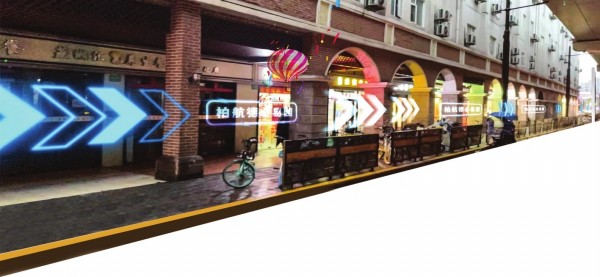 In 2022, metaverse related industries continued to attract market players such as Internet enterprises and digital technology enterprises to enter and layout, and gradually developed from virtual to real. During the two sessions, metaverse was also a hot topic, which means that metaverse has become an inevitable development trend in the future. The new track is full of countless possibilities, which should not be just the dividend of Internet high-tech enterprises. The reporter interviewed some entrepreneurs, entrepreneurship parks and regulators to discuss their thinking on metaverse and how to implement metaverse.
Photo provided by sun Qi, reporter of Youth Daily
Metaverse's hot trend is attracting the attention of a large number of young entrepreneurs.
"Our company has been invited to participate in the first global digital Trade Expo." Liu Yu and ah Zhe, founders of Shanghai Weiyang Culture Communication Co., Ltd., told reporters excitedly. It is reported that the first global digital Trade Expo will be held in Hangzhou International Expo Center from March 23 to 27. A project called "Baixue" digital collection will be released on this digital trade platform, and the company, as the main body of "Digital Collection Museum", is invited to complete the project.
"We have been doing entrepreneurial projects related to young people," said Liu Yu, who graduated from Shanghai University of technology. The post-90s started their business in 2013. During his school years, he and his alumni founded two companies in partnership. "It mainly carries out some media projects such as campus brand marketing and E-sports games." In the first half of 2021, he noticed that the overseas digital art market, digital collections and metaverse were in full swing, and there were many young and promising artists around him. Therefore, he did not hesitate to cut into this track and wanted to help Chinese young designers overtake with the help of the digital trend curve and go to the front of the public and the world. In 2021, Liu Yu and his partners built a "Digital Collection Museum" – based on the application of blockchain technology in the field of intellectual property rights and the development of digital art industry, providing digital transformation for national intangible cultural heritage, museums, cultural tourism, entertainment and Chinese young artists through blockchain technology.
"Along the way, I have also encountered many doubts and small setbacks." Liu Yu said that he was often asked by all parties: what degree metaverse can achieve and whether it will be a flash in the pan. With the continuous introduction of various policies in the field of metaverse, after careful study, Liu Yu insisted that digitization is the future development trend, not a short-term "tuyere", and the entrepreneurial direction conforming to the policy must be worth going. Through unremitting efforts, they have gained recognition inside and outside the industry: they have been invited by Alibaba digital auction to become industry operation partners, and are responsible for introducing IP parties, creators and other settled platforms to sell digital products; At the same time, it has also helped many IP companies and cultural tourism in many places to do a lot of digital publicity and promotion, cultural tourism and Cultural Expo digital transformation projects, such as Zhongchuang cultural tourism, Shanxi Yongle Palace, meet Museum, etc. "My personal judgment is that in the near future, the metaverse industrial chain will continue to improve and form an industrial form of metaverse + n industries. As a member of the industry, I am confident and look forward to it." Liu Yu is full of ambition.
Recently, bock City, a well-known game company in Shanghai, has become a hot topic because of the "commencement ceremony" of the "bock Art Center". They held an art exhibition at the construction site that has not yet started, and also put forward the slogans of "no silence", "no seriousness" and "no prohibition", The company's concept of "youth, acme, freedom, breaking rules and no boundaries" is vividly displayed. The reporter learned from the interview that this quite character game company also tried to cut into the metaverse track from the art field.
"We are setting up an online virtual art fair." Tang Zhiping, producer of "cat apartment 2" in bock City, told reporters that they plan to hold a cat Music Festival and online performances of famous singers. Conduct a water test of the virtual world. "We are currently starting the first step. The first major activity is to try the online virtual concert of cat apartment. If the effect is good, we will continue to carry out the second step: cat virtual online art fair to create use scenes for NFT. Players can experience the virtual art festival in the scene through virtual images, and artists can display and sell their own artistic creations 。" Tang Zhiping said that they have many advantages in entering the metaverse track: for example, the game mode conforms to the concept of metaverse, there is ready-made technical team support, art museums and art resources can be mobilized, and online and offline linkage is relatively convenient. Of course, there are also some urgent problems to be solved: the relevant systems of domestic blockchain are still in the exploratory stage, the domestic authoritative public chain is not yet mature, and the acceptance of virtual art collections still needs time. But all this will be solved over time.