Wen Chen Gen
On March 7, edway, a Hong Kong listed company, announced its annual performance announcement for the year ended December 31, 2021, and the company's annual performance hit a record high. The report shows that last year, the company's revenue increased by 97.4% year-on-year to about RMB 904.1 million, the net profit increased by 307.1% year-on-year to about RMB 102.6 million, and the net interest rate was 11.3%, up 5.8 percentage points year-on-year.
Prior to this performance report, that is, on February 18, edvison group announced that it had reached a strategic partnership with Shanghai Design Week and would fully participate in the brand promotion and operation of "Shanghai Design Week" in the next decade. At the same time, it will provide metaverse virtual theme social display platform for "Shanghai Design Week", realize scientific and technological empowerment and promote the high-quality development of "Shanghai Design Week".
Let's take a look at the company that makes about 102.6 million yuan a year? Where did you get the courage to talk about providing metaverse virtual theme social display platform for Shanghai design week. According to the introduction of aiqicha about edvison company, it is as follows:
General items: technology development, technical consultation, technical services and technology transfer in the field of computer information technology. Design, produce, act as an agent and publish various advertisements at home and abroad, photography and video services, computer graphic design and production, cultural and artistic exchange planning, film and Television planning and consulting, business information consulting, corporate image planning, marketing planning, public relations activity planning, enterprise management consulting and exhibition services (except hosting and undertaking). (except for the items that must be approved according to law, the company shall independently carry out business activities according to law with its business license)
It's tiring to see so much. In fact, to sum up, ed Weixuan is an advertising company. Is this kind of industrial and commercial registration information familiar to you? When you go to register a company, you usually register a cultural or advertising media company, which is these categories.
Such an advertising company, which is neither metaverse's underlying Industrial Technology Company nor the company at the system application level, how can we say that it has provided a metaverse virtual theme social display platform? Does it mean that we made a sci-fi VCR about metaverse social networking, and then played it to become a company related to metaverse?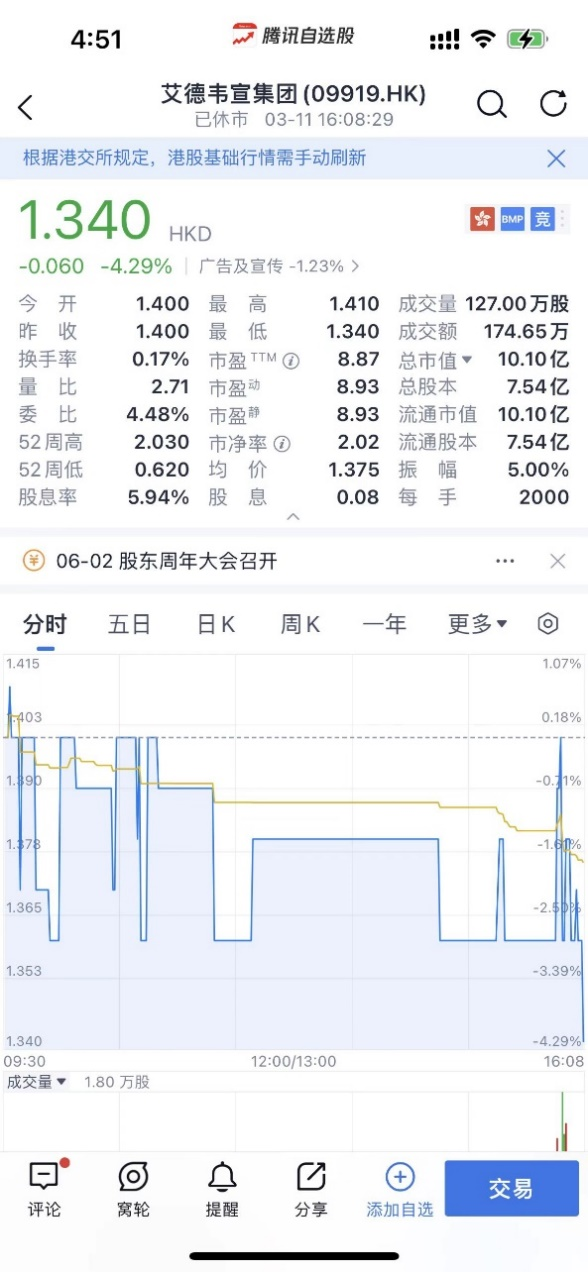 Let's take a look at the stock situation of edvison company. According to the situation on February 11, 2022, the daily transaction volume is 1746500. Such a "large" transaction volume makes the daily transaction similar to the ECG of people who are dying. If according to its annual net profit of about 102.6 million yuan, the money earned in this year is not enough to cover one day's repurchase.
So what does this trading volume mean in the Hong Kong stock market? This means that such companies are about to become "zombie" stocks, and there is a crisis of being short at any time. Once edweixuan is targeted by shorting institutions, the annual net profit of 1.02 million can not resist the crisis of shorting. Once short, the next step is to become a fairy stock.
Therefore, before talking about metaverse, I still hope that all companies can take it seriously. Don't touch porcelain metaverse. Don't always think about attracting shareholders through touch porcelain metaverse to pay for the company. For ED Weixuan, the most important thing at present is not to meet the porcelain metaverse. We should face up to our actual situation as an advertising company and manage the fundamentals of our company.
First of all, we should strive to revive our company from "zombie" stocks;
Secondly, we should strive to prevent our company from becoming a member of Shengu in the Hong Kong stock market.
Therefore, when Ed Weixuan (09919) talks about metaverse, it is the most realistic and responsible attitude to investors to save his fairy stock destiny first.
Leave a comment
Cancel reply