This article is transferred from: Yangcheng school
Text / Yangcheng Evening News all media reporter Huang Ting
Figure / provided by respondents
On March 12, 2022, the information conference of Wang Laoji youth project and three dolls brand value evaluation was held in Guangzhou. Yangcheng Evening News all media reporter learned from the scene that Wang Laoji will create a precedent in the domestic FMCG industry, land on highstreet world and build a Kyrgyzstan cultural base, becoming another important carrier for "Kyrgyzstan culture" to enter metaverse in an all-round way.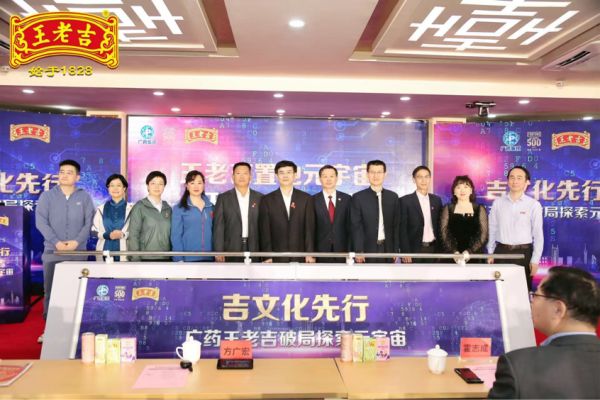 2022 312 Thanksgiving Wong Lo Kat youth project and three dolls brand value evaluation information conference site
Whether it is the land metaverse platform, publishing digital collections into metaverse, or cross-border sponsorship of E-sports teams, it is Wang Laoji's exploration and attempt in brand rejuvenation and digitization. In recent years, Wang Laoji, the ancestor of herbal tea with a history of 194, has deeply explored the connotation of "auspicious culture", becoming the first enterprise in the traditional FMCG industry to explore metaverse through culture, and actively seeking the fit point with young people. The brand communication has successfully broken the circle and reached the young consumer group.
Take the lead in exploring metaverse through culture
As metaverse has become the most concerned outlet at present, many physical enterprises at home and abroad have accelerated their layout one after another, establishing another "parallel world" in the virtual space and launching digital collections have become the mainstream play method of metaverse marketing.
At the project press conference, Wang Laoji will land on highstreet worldmetaverse and start the construction of Ji cultural base. It is understood that highstreet world cooperates with many international brands to build areas of its metaverse world, and each area includes users' houses and real estate. The construction of wanglao Jiji cultural base will help spread Chinese traditional "Jiji culture" and lead the "Jiji culture" into metaverse and the world.
In terms of digital collections, following the launch of the "baijiahe" surname series digital collections in the Spring Festival of the year of the tiger, Wang Laoji will seize the victory and launch the metaverse "Jihu" Avatar digital collection. Wang Laoji's IP character Xiao Ji, wearing a traditional Chinese head dress – tiger head hat and holding the hieroglyphs of the twelve constellations, incisively and vividly expresses the "auspicious culture" of numbers, science and technology. The "lucky tiger" Avatar integrates the auspicious implication of traditional culture with the cosmic constellation, opens up a broader space-time and space, and seamlessly connects with the metaverse era.
At that time, Wang Laoji will launch the digital collection of "lucky tiger" Avatar through Alibaba auction platform and conduct public auction online. Due to the application of blockchain technology, the "lucky tiger" Avatar digital collection has unique identification and ownership information on the blockchain and can not be stolen. Once obtained, the user will have a unique and non homogenous digital asset.
It is understood that the digital collection is an important entrance for Wang Laoji to open the parallel space-time of virtual and reality. During the Spring Festival in 2022, Wang Laoji jointly launched the "baijiahe" digital collection with ALI. Once it was launched, it received extensive attention from all walks of life, was warmly sought after by the majority of collectors, caused heated discussion among young consumer groups, and successfully took Wang Laoji's first step into metaverse.
From the "baijiahe" digital collection to the "Jihu" Avatar digital collection, Wang Laoji's metaverse related products are all deeply branded with "Jihu culture". For example, the first batch of "baijiahe" digital art contains 100 surnames. Its concept comes from the integration of national brands and traditional surnames. It takes the figurative Chinese surname culture as the core element and injects the beautiful wish of "auspicious culture". For another example, the design of the "lucky tiger" Avatar takes the meaning of "fortune is near the door and wealth is full of doors", integrates the cosmic elements of the twelve constellations, and promotes the "lucky culture" in a fashion close to the trend.
Integration of cross-border e-sports industry into young groups
At present, the segmentation characteristics of young people's circle are becoming more and more obvious, and their attention is becoming more and more fragmented. Major brands pay more attention to the younger marketing scenes such as e-sports, live broadcasting and secondary element. Therefore, in addition to continuing to cultivate metaverse, Wang Laoji also signed a contract with Weibo to sponsor Beijing WB King glory team to fight the king glory Weibo cup.
E-sports is becoming an emerging cultural symbol that affects a generation. According to the data, from 2018 to 2020, the overall market scale of China's E-sports climbed from 89.5 billion yuan to 147.4 billion yuan, and it is expected that the market scale will reach 215.7 billion yuan in 2022; Chinese E-sports users are mainly male, mainly under the age of 30, accounting for nearly 80%.
What kind of "chemical reaction" will happen when the trendy e-sports industry meets Wang Laoji who is cool and on fire? The reporter learned that Wang Laoji will link microblog team (Beijing WB King glory team), event (King glory microblog cup) and grassroots E-sports full ecological marketing, occupy E-sports assets through team cooperation, release brand influence through events, and lead Wang Laoji to penetrate E-sports marketing.
Pang Hui, vice president of Wang Laoji pharmaceutical, and Zeng Rong, general manager of Weibo South China brand, presented a group photo of the team's signature team uniform
In order to better integrate into young groups, Wang Laoji's cross-border marketing in the field of E-sports is quite forward-looking. Since 2017, Wang Laoji has worked with the world E-sports games (wesg) to create an E-sports feast for many times, marking that Wang Laoji has opened a new field of attempt in sports marketing and stepped on a larger stage of sports marketing.
In cross-border marketing, Wang Laoji deeply integrates the brand concept with the life attitude of young groups. For example, it launched a series of personalized packaging designs such as "cute box", "wild article" and "dialect packaging". It also launched the rap rap rap flash video of "wild dialect" for its new dialect cute box packaging, and launched the "fashionable and cold" Wang Laoji zuncui herbal tea plant beverage on its products. (for more news and information, please pay attention to Yangcheng pai.ycwb.com)
Source: Yangcheng Evening News • Yangcheng school
Editor in charge: Li Zhiwen