For companies with different positioning, metaverse oriented technology exploration and commercialization balance are becoming a key proposition.
The wave of metaverse is roaring, and the industry urgently calls for the improvement of software ecology.
As the VR product oculus Quest 2 of meta broke through the sales threshold of 10 million units in 2021, after a certain degree of accumulation of infrastructure, it also needs the support from the content ecology to really promote the implementation and continuous iteration of new technologies.
This is closely related to the development of metaverse's main players. In the financial reporting season in February, robolex, known as the "first stock of metaverse", and meta, which took the lead in proposing the transformation of metaverse, both performed poorly in relevant performance parts and the stock market.
"The development of metaverse is a gradual process, not from 0 to 1." Yuan xucong, senior analyst of toubao Research Institute, analyzed to the 21st Century Business Herald reporter that the starting point of metaverse is not only the construction of technical platform, but also the creation, iteration and experience of digital content.
Gu Chengfang, vice president of Wanxing technology, also told the 21st Century Business Herald that in the process of moving towards metaverse, we first need to think about the software ecology and content level, and then we can better implement the specific presentation through hardware. Because the hardware should better enable the software content.
   "At this stage, the lack of digital content is a key factor limiting the development of software manufacturers. In the short term, more efficient, high-quality and low-cost UGC content creation is an important factor to promote the development of metaverse entertainment, games and social scenes. The further combination of artificial intelligence technology in voice, vision and computing with UGC creation will develop into a more efficient and rich content creation system 。" Yuan xucong added that the existing digital technology emphasizes digital twins, digitizing the physical world and transforming it into a virtual world. In the future, the virtual world will have more imagination space and gradually develop to the virtual original, which will not be limited to the dynamic reproduction of the real world.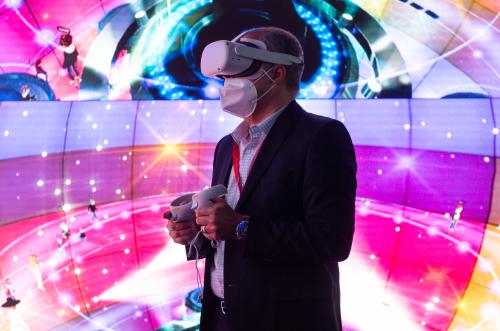 Software ecological iteration
The industry usually divides metaverse into seven levels, covering multiple dimensions from basic technology to ecology, specifically: Infrastructure (5g, GPU, etc.), human-computer interaction (mobile devices, neural interfaces, etc.), decentralization (edge computing, blockchain, etc.), spatial computing (3D engine, AR / VR devices, etc.) Creator economy (design tools, workflow, etc.), discovery (advertising networks, app stores, etc.), experience (games, social networking, etc.).
It can be seen that the latter half emphasizes software application and ecology. "Metaverse needs a lot of software and technology collaboration, including algorithm platform, rendering and 3D modeling software, as well as application level operating system and other software." Yuan xucong further analyzed that there are still some bottlenecks in these fields.
In 2020, the demand of deep learning model for computing power has reached 10 billion times a day. "Computing power supports the creation and experience of metaverse virtual content. At present, the global computing power lags behind the growth of data and algorithms, and there are still many technical bottlenecks in computing power breakthrough." He pointed out. In terms of visual processing, "immersive" experience needs can not be met. "In the process of rendering technology changing from game industry to more industrial scenes, it is difficult to balance rendering speed and quality. Hardware devices such as AI chip and GPU need to further help the technical breakthrough of rendering software. It is expected that the quality of rendering content will be greatly improved and deep immersion will be achieved in 2025."
At the same time, the application end also lacks industry standards and unified standardized interfaces, resulting in the need for complex customized programs in the landing process of a large number of digital technologies to meet the needs of different industries and users. The core application industry of metaverse needs collaborative optimization.
The reason is that it will be a vision space that not only reproduces the real world, but also has many extended scenes and applications.
"The concept of metaverse is too big, bigger than the real world, and the economic volume will be larger than the real world in the future." Gu Chengfang pointed out, "Because metaverse has several characteristics: it is a three-dimensional world, a continuous, immersive and interactive space. These characteristics determine that it is difficult to build a digital world. The more complex things are, the tools must be good. Therefore, we can't do the whole metaverse and choose one direction to work in – to empower the creator's economic link."
Judging from the evolution trend of the whole software product ecological technology, Gu Chengfang told reporters that there will be three directions: first, technology intelligence / intelligent technology, including digital virtual human / dynamic anchor, sensor upgrade, and the combination of software driver and hardware sensor technology. "Make the software lighter and simpler, but it can reflect more complex effects."
Second, SaaS. Before using the software, you need to download an installation package, but in the future, you can open the page and "online collaboration" the content.
The third is to enable software tools to realize 3D rendering in real time, WYSIWYG, which will greatly improve the current situation of continuing to modify and lengthen the production time after long-time rendering.
Specific to the tool iteration for the creator economy, he continued, "Web3.0 is our creative form under the concept of metaverse, including key elements such as identity identification system, creative boundlessness and components." Gu Chengfang introduced that therefore, the creative form can be divided into three levels: first, the "creative resource particles" of element creation; Second, dynamic and spatial scene design; Finally, it should at least rise to the level of interactive creation. For example, people can interact with virtual scenes and spaces.
In the process of space construction from two-dimensional to three-dimensional or even more three-dimensional, Wanxing technology will explore and upgrade around three aspects: creative tools, creative resources and creators themselves.
It is reported that in terms of tools, the company's "Wanxing recording and performance" has launched the virtual human function recently. In the software, there are digital virtual human to help with video recording and explanation, which is more three-dimensional, digital and intelligent; In terms of creative resources, it is necessary to accumulate a large number of design materials that can serve the three-dimensional world such as AR / VR; At the same time, it also plans to cooperate with colleges and universities to integrate the three-dimensional software of major global manufacturers, hoping to better teach creators how to use these creative tools.
Step industrialization
Returning to the commercialization level, the relevant performance of overseas giants is still at a loss, while domestic science and technology giants are actively deploying relevant technologies rather than rushing to be "radical" like meta.
Yuan xucong believes that this is because China has a more prudent and strict regulatory environment for the development of metaverse related digital economy, while the U.S. market encourages relevant investment from top to bottom, in parallel with active regulation. "However, China is more complete in basic communications and infrastructure. At the same time, it has huge advantages in population scale and data scale. It is relatively leading in comprehensive computing power and has great market potential. It is in a rapid catch-up trend in cloud computing, artificial intelligence and other related technologies."
He pointed out that China's major Internet manufacturers have always focused on the research and development of underlying technologies. For example, Tencent occupies the three core areas of metaverse: Games, social networking and video; We have actively arranged the game business, acquired the VR manufacturer of China's top 1 to develop the hardware business, and has a large number of immersible content resources in the field of short video and live broadcast; Netease continues to cultivate in the game field and focuses on the application of artificial intelligence in game research and development. Chinese start-ups are also waiting for opportunities in subdivided areas.
"On the one hand, big Internet companies pay attention to the investment layout of VR / AR terminals, on the other hand, they also pay attention to game and other content developers. From the perspective of the three major markets in China, the United States and Japan, leading players including meta, apple, Sony and byte are involved in hardware equipment and content and software developers, and promote the technology research and development of virtual experience from two aspects." Yuan xucong concluded.
For companies with different positioning, metaverse oriented technology exploration and commercialization balance are becoming a key proposition.
Gu Chengfang told reporters that Wanxing hopes to achieve a smooth transition, which is a major premise. "Our way of thinking is different from that of companies such as meta. Specifically, we are a product innovation company and a user-oriented company. We will not put all our eggs in technological innovation, but more on what users need. Therefore, our product upgrading is a gradual iterative process. We hope to iterate faster and look forward than our peers as much as possible." He pointed out that at the same time, the company has cultivated specific user groups for many years and has unique expectations and requirements for products. "We will promote technological innovation based on the needs of our users, taking into account the performance of business, but we also need to keep users fresh through technological innovation, business model upgrading and iteration of product function experience."
"There are at least two kinds of innovation. Disruptive innovation is similar to meta; we prefer the new minimally invasive model. That is to say, when innovating, we should pay more attention to the realization of the whole business interests, which is the basic attitude of Wanxing in metaverse." Gu Chengfang continued that the company is also actively recruiting relevant talents.
At present, in addition to the explicit landing scheme of the game, the virtual human has also become a hot track.
Gu Chengfang pointed out to the 21st Century Business Herald reporter that building a metaverse oriented software platform requires an ecological co construction process, in which digital virtual human is an important landing technology. "We implemented digital virtual human technology into video creative software tools earlier in China. Digital virtual human has a wide range of application scenarios and solved many problems that were not convenient or handled well before. It is an innovative technology and has benchmarking significance in the development process of metaverse."
Based on this, the market space that can be opened for virtual people in the future is also regarded as considerable enough. He said that the digital virtual human will develop towards a more realistic direction in the future, and the expression, dress and dynamics will be more and more smooth and vivid. The application scenarios of digital virtual human, including personalized dress, will be more and more diverse.
At the same time, the degree of intelligence is also higher. Through image recognition, we can even directly generate a three-dimensional digital virtual human with only a plane static picture, and the shape is very similar, which will become the development direction in the future. "We think digital virtual human may be a large and relatively independent industry in the future."
Yuan xucong believes that digital virtual human has image ability, expression ability and perceptual interaction ability. It is the medium to display users' virtual identity in metaverse. "At present, there are many application scenarios for virtual digital people, which are mainly developed in the entertainment and service industries. There are a large number of virtual idol fans in the market, and users are more willing to pay for virtual idols. With the enrichment of hand-made, record and other products, virtual traffic has a strong liquidity."
He pointed out that at present, Chinese manufacturers have layout in the basic layer, platform layer and application layer of virtual human related industrial chain. The basic layer mainly focuses on technical services such as artificial intelligence, motion capture, modeling and rendering; The platform layer includes the design, operation and cultivation of virtual characters, such as the cooperation between byte beat and Lehua entertainment. The former provides technical support, while the latter provides the management and operation of virtual idols, builds business scenes and carries out consumer education; The application layer also includes games, live broadcast, music, etc. "The application value of virtual digital human is gradually highlighted, and more b-end industry solutions will appear in the future."
(author: Luo Yiqi editor: Zhang Weixian)
Leave a comment
Cancel reply