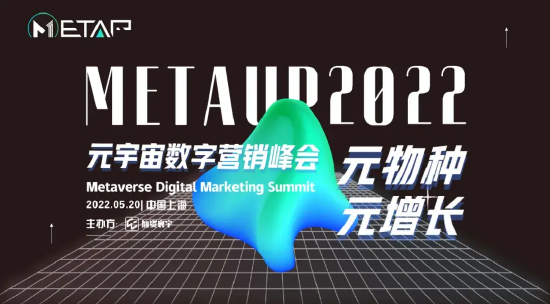 In 2021, a wave of metaverse was launched. Metaverse brought an all-round immersive experience upgrade of "vision, hearing, smell, taste, emotion, emotion, psychology and physiology"; Metaverse's advertising marketing strategy has also changed from the current one-dimensional plane of single output to a four-dimensional space that consumers can feel, participate, create and traverse. We have entered a new era of full perception media from visual media!
Metaverse marketing starts the great transformation of brand marketing
With more and more life scenes synchronized to the virtual space, metaverse has become a cutting-edge and cutting-edge marketing position! Luxury goods, fashion clothing, beauty, food and beverage, live broadcast e-commerce, finance, culture and tourism, physical space and other brands and scene providers are accelerating the layout of metaverse. How do they make marketing changes in metaverse:
L virtual digital human
For the brand side, digital human marketing integrates the methods of celebrity marketing and star endorsement, but it is more "reliable" than the latter two. After all, digital people will not be unable to appear at the scene on time because the plane is late, and the epidemic and social isolation can not prevent digital people from visiting exhibitions, going out of the street, punching in and watching shows.
L NFT digital collection
NFT can be combined with the real world to protect the brand and enhance the real world. It can also be used as the carrier of NFT to protect the brand and enhance the real world.
L immersive / gaming marketing strategy
The boundary between "reality" and "virtual" will become more and more blurred. Brands will need to create an immersive multi sensory experience to truly bring consumers into it; Game is a way of "building another world in the virtual environment". It is one of the important tools to build the basic element of metaverse – virtual scene. Immersive / Gamification marketing is an "advanced" game with more interactive and telepresence.
We can see that metaverse has brought new market space, new business system, the emergence of new consumers in Z era, and new marketing technologies and marketing ideas have also emerged. How the brand should play metaverse marketing and how to get the favor of young consumers in Z era has become the breakthrough point that all brands strive for together.
Explore new opportunities for metaverse marketing
In this context, the metaup2022metaverse Digital Marketing Summit, sponsored by metaverse information aggregation platform, Huanyu and metaverse home, will be held in Shanghai on May 20, 2022. With the theme of "meta species, meta growth", it focuses on how brands in the metaverse era link new digital spaces and serve new consumers, and is committed to helping brand marketing officers, Decision makers break through the cognitive boundary between brand and communication; Help the brand adapt to the metaverse digital world and realize the brand's youth, sense of science and technology and futurism; Build a valuable metaverse digital marketing business exchange platform, jointly build a new metaverse brand construction model, provide more possibilities for brand digital transformation and upgrading, and realize new growth for the brand
Metaup2022metaverse Digital Marketing Summit is worth your participation!
Canada capital Huanyu focuses on building a high-end communication platform for metaverse marketing, stimulating unlimited business opportunities for brands, and building an international metaverse marketing ecosystem conference.
[discussion on cutting-edge topics]
Coverage network red virtual personification, virtual digital space marketing, NFT digital collection, IP operation, immersive game experience design, etc
[covering many brands and scene providers]
The metaup2022metaverse Digital Marketing Summit covers a wide range of Chinese and global metaverse brand marketing ecosystems, providing you with cooperation with brands (food and beverage / Beauty / mother and baby / car / live e-commerce / luxury / clothing luggage + finance / culture and tourism / business district / Tourism), scene providers, AI digital people, NFT digital collections, space design, IP content operation, artists Investors and other industry stakeholders have the opportunity to establish new business relations and reach historic cooperation.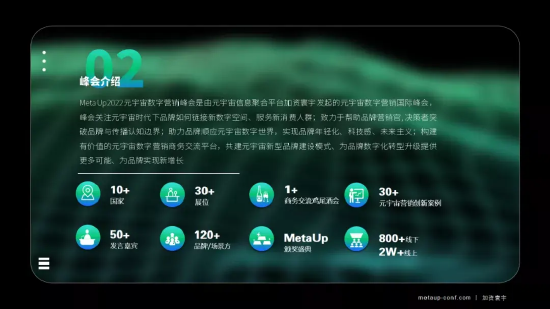 [content: dry goods]
Metaup 2022metaverse Digital Marketing Summit brings together "heavyweight" speakers at home and abroad to present you with the most cutting-edge industry information. You will grasp the general trend of metaverse digital marketing industry and gain unique insights and insights on "how brands link the new metaverse digital space". Multiple theme forums, multiple core topics and metaverse marketing innovation cases:
Main forum: new changes in marketing under the awakening of metaverse
Sub Forum 1: Virtual Digital man – messenger connecting metaverse and reality
Sub forum 2: NFT Digital Collection – new password for pioneer brand marketing
Sub forum 3: immersive and game interaction design brings a new paradigm of marketing
L core issues
Novelty and future, open the era of metaverse marketing!
Opportunities and exploration of retail brands in metaverse
When marketing meets "metaverse", how to reconstruct the human and freight yard
Fashion fashion clothing, broaden the imagination boundary of brand marketing
Marketing opportunities in the era of generation Z
How does metaverse virtual space empower brand owners
Marketing with game thinking in metaverse Era
Virtual digital people + digital collections fully enable brand marketing
Digital people promote the digital transformation of banking industry
Establish a virtual IP image and create the number one player of content
NFT Digital Collection – the cornerstone of metaverse digital world
Immersive ad invades metaverse and reclaims gold mining treasure land
[Social cocktail, expand high-end communication contacts and promote business cooperation]
The grand scale, unique innovation, wide brand coverage, strong influence, unique social mode and social cocktail dinner of metaup2022metaverse Digital Marketing Summit will help you expand high-end contacts, establish communication, carry out dialogue, reach cooperative relations and promote business transactions.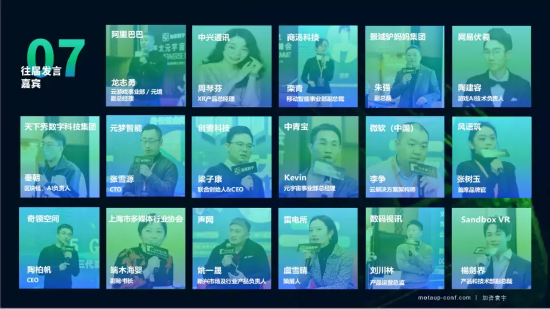 The metaup award ceremony shows the vitality and innovation of metaverse marketing
Metaup awards ceremony, adhering to the concept of "enabling the growth of metaverse marketing", deeply excavates the marketing value of metaverse and encourages more brand advertisers, scene merchants and marketing practitioners to innovate. It is a professional award designed to commend enterprises with the latest technology, innovative ideas and commercial value. Set a new model and benchmark for the development of the industry. In addition, the organizing committee will also customize the awards for excellent application cases, bring your products and technology and your proud team, participate in the competition, gain exposure and win honors!
The following is the name of the award:
Top 10 metaverse marketing industry case Awards
Top 10 metaverse marketing Leaders Award
Metaverse marketing model award
Metaverse Marketing Innovation Award
Metaverse marketing outstanding contribution award
Most popular virtual digital human Brand Award
Virtual digital man cutting edge Award
Most valuable digital collection platform Award
Outstanding metaverse marketing solution Award
Metaverse marketing influence brand award
2022metaverse marketing is the main theme and the entry point for any industry to do and quickly enter metaverse. At present, many brands have begun to try brand marketing in metaverse, and seizing the marketing opportunities in metaverse has become the consensus of major brands. As a metaverse information aggregation platform, Canada capital Huanyu has held the "Asia Pacific metaverse new era summit", which brings together many industry experts in the metaverse industry and has been highly praised by the industry. It is the most professional, research and Industry Summit Forum with the largest number of participants in the metaverse industry. I believe this "metaverse Marketing Summit" will bring the same wonderful experience, On May 20, 2022, let's start a date with Jiazi Huanyu.
  l More ways of cooperation
Contact: Gan Yi
Mobile: 189 6459 2322 (same as wechat)
Email: [email  protected]
Media cooperation: Amanda (18190020926 with wechat)
Registration link: http://hdxu.cn/5xzeG
Sina statement: Sina's posting of this article for the purpose of transmitting more information does not mean that it agrees with its views or confirms its description.