On March 7, Internet Weekly and Deben consulting released the top 50 of 2021metaverse potential enterprises. The list shows the actual action and future development of metaverse. It not only focuses on the "entrance" of hardware, but also attaches importance to the digital innovation of software and application. It is expected that metaverse will really bring inspiration, new ideas and practical power to the development of enterprises, Implement the needs step by step.
As the enabler of metaverse digital creativity, Wanxing Technology (300624. SZ) is committed to building the first share of China's creator economy, actively embracing a new era driven by creators, CO creation, sharing and co governance, and has been successfully selected into the top 50 list. At the same time, many pioneer enterprises exploring metaverse, such as Huawei, Alibaba and Tencent, are also listed. It is reported that Wanxing technology is also the only software enterprise and A-share listed company committed to creator economy among the enterprises on the list.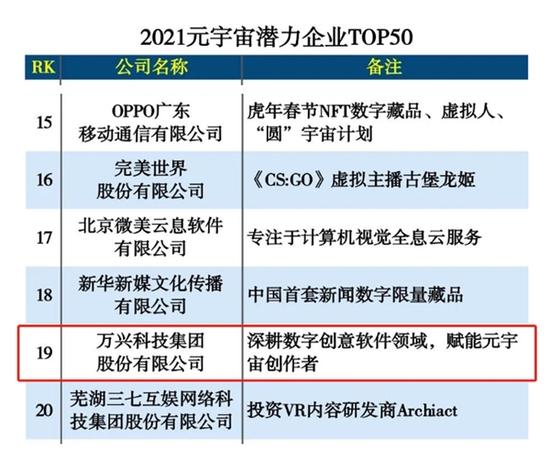 Internet Weekly commented that in 2021, the Internet pattern has come to the moment of change, technology is eager for new products, capital is looking for new exports, and users are looking forward to new experiences. The appeal of innovation singularity has revived the concept of metaverse. Although the current metaverse market is still in the primary stage of building digital twins and virtual humans, it needs to be fully prepared in advance. For example, games are the prelude and prototype of metaverse, but the application scenarios of metaverse are far greater than those of social networking, entertainment and trading. Looking farther away, from Internet plus to Metaverse+, all walks of life will participate in the construction.

Before the important historical opportunity of metaverse, Wanxing technology is anchoring the "creator economy" and enabling creators in multiple dimensions. Wanxing technology's resource effects, audio and video and image processing, collaboration tools and other related products are just important productivity and creativity tools for metaverse's creative economy.
In addition to targeting in the strategic direction, since last year, Wanxing technology has also made a series of forward-looking layout in the direction of products, technology, resources and industrial ecology.
In terms of product technology, Wanxing technology actively explores the realization of 3D model design and rendering technology, mobile capture AI technology and GaN based network image generation technology with the help of cloud services provided by Alibaba cloud. Its video demonstration artifact wanxinglu has launched the "virtual human" function, realizing the technological leap from real person demonstration to virtual digital human demonstration.
In terms of resources, the company has built a large multinational creative design team to continuously output high-quality special effects resources. At the same time, its digital creative resources cloud platform Wondershare filmstock is committed to building a huge "digital raw material factory" and continuously integrating global high-quality creators to empower users through opening and upgrading. In addition, the company has reached cooperation with dozens of top original material companies in the world, and the special effect resources have reached 100000 particles recently. In 2021, the revenue of Wanxing technology video creative resources exceeded US $10 million.
In terms of industrial ecology, Wanxing technology was recently invited to become a member of China Mobile metaverse Industrial Committee. On January 22, Wanxing technology, together with Tencent, Alibaba, byte beat and other enterprises, was also rated as an outstanding enterprise in metaverse construction, and was selected into the list of top ten enterprises that change people's living habits in 2021. It is understood that in the first half of this year, Wanxing technology will also jointly host the "Yuelu summit metaverse forum" with industry partners.
It is noteworthy that in order to better gather talents for the future, Wanxing technology has also recently issued "hero posts" with the slogan of "starting a business with a high salary", and is looking for internal entrepreneurial partners all over the world. At the same time, the company is also vigorously recruiting senior 3D Algorithm Engineers, product growth managers, senior animation designers, senior investment managers and other high-end positions.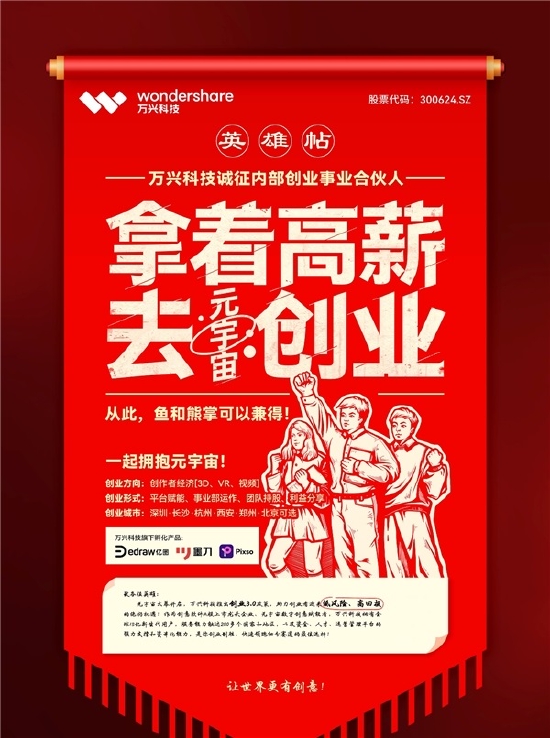 Different from previous recruitment, Wanxing technology creates a low-risk and high return entrepreneurship 3.0 innovation model with both "high salary" and "partnership entrepreneurship", so that excellent candidates can not only realize their entrepreneurial dreams, but also enjoy supporting incentives such as high salary and equity.
In terms of entrepreneurial form, excellent candidates will be responsible for team formation and comprehensive operation as the head of business division / Studio. In entrepreneurial cities, entrepreneurs can choose the cities where Wanxing technology operation center is located, such as Shenzhen, Changsha, Hangzhou, Xi'an, Zhengzhou and Beijing. In the direction of entrepreneurship, it covers 3D / VR / video creative software and other fields.
Nowadays, the popular "hero posts" of Wanxing technology can be seen in Entrepreneurship parks such as Shenzhen and Changsha, and even online communities and circles of friends. Shenzhen satellite TV and other media recently also interviewed and reported on this innovative model.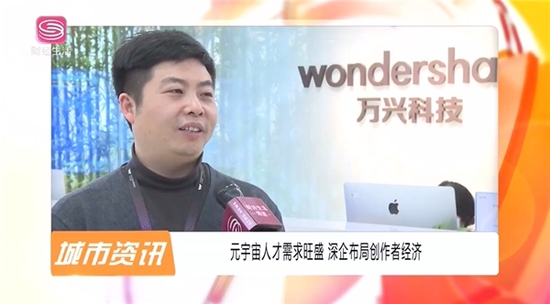 On March 2, Wanxing technology also conducted the first live Q & A of "starting a business with high salary". Lampard, vice president of Wanxing technology group and general manager of strategic development center, appeared in the live studio to interpret "how to better grasp metaverse entrepreneurial opportunities in the era of entrepreneurship 3.0".
In order to further interact, Lampard will reappear in the live broadcast room of Wanxing technology's official video number on March 13 and 19 to continue in-depth interaction with netizens. This time, Lampard will share his case of why he chose to join Wanxing technology as a successful entrepreneurial veteran for 14 years, and talk about the new metaverse entrepreneurship topic.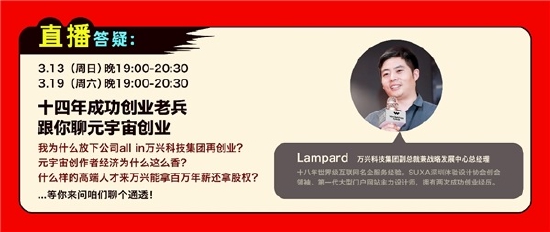 It is reported that Wanxing technology, established in 2003, has a number of popular products at home and abroad, with a total of 1.5 billion users worldwide.
Sina statement: Sina's posting of this article for the purpose of transmitting more information does not mean that it agrees with its views or confirms its description.