Open
Column
Language
2021, to be continued
At the end of 2021, Xi'an entered the closed management mode. The preliminary flow survey shows that the virus is a delta variant, while a newer variant Omicron is popular abroad – we bid farewell to 2021 and usher in 2022.
In the past year, anti epidemic is still the background of our society, and many cities have experienced the test of epidemic situation. If we look back at the experts' prediction of the epidemic in the past two years, we may be too optimistic. The expected "post epidemic era" has not come yet. We still need to fight the epidemic and live at the same time.
If you look at the world, you will find that the relationship between major countries is being deeply adjusted. Looking at China, a series of reform combinations such as "double reduction" in education and Anti-monopoly in platform economy are still landing at the moment. Some industries fall from the tuyere and others stand on a new tuyere.
The Tokyo Olympic Games, originally scheduled to be held in 2020, will be postponed until this summer. Before the Olympic Games, the epidemic situation in Tokyo rebounded seriously, and finally people still held the Olympic Games. This is the portrayal of the human spirit in 2021: you can't delay, you can't escape, and you can only strive to defend "daily life" under the interference of "abnormal" epidemic.
The climate is also "abnormal". There are rare high temperatures in Turkey and rare floods in Germany. Even developed economies have been hit hard by natural disasters. This summer, many cities in China were also threatened by rainstorms. More than a dozen people lost their lives in the torrential rain in Zhengzhou.
But in the pain, we still feel strong strength. There is an impressive video in the rainstorm. Several passers-by swam to the car trapped in the flood and worked together to save children and women from it. This is also what 2021 tells us – we need such unity in the face of epidemic or flood. When making nucleic acid, we should keep the "1m" safety line, but people's hearts must be closer.
We can't easily say goodbye to 2021. On the contrary, at the moment of leaving the old and welcoming the new, we should "sneak back" to interview the witnesses of some important news events and explore the impressions left by the times. We believe that this year has not been or will not be in vain. It is still "new" and is still telling us – to be continued, let's go.
Standing on the air outlet of metaverse, the virtual idol began to take off.  
In 2021, with the popularity of metaverse concept, the virtual idol track is also lively. In May, ayayi, a real person image between light and shadow, appeared in Xiaohong book. In October, Liu Yexi, who was superimposed by cyber neon tiktok and Chinese fantasy, released the first video in the jitter.
When the public is still ignorant of metaverse, the visible virtual idols have become a bridge connecting the real world and filled the imagination gap of metaverse. With the surge of fans and the influx of capital, virtual idols are becoming a new outlet.
Everything about virtual idols has also aroused public curiosity – how to make them? How high is the cost? How to realize? Does metaverse tell a story, or does it really represent the future? In order to answer these questions, in December, the Red Star capital Bureau talked with Liu Yexi, ayayi and the company behind jiyuanmei, the pioneers of the virtual idol track, and the founders.
Xie duosheng, founder of Liu Yexi, said: "Liu Yexi's explosion is due to the favorable climate, location and people." Ayayi's production company told the Red Star capital Bureau: "we have achieved a new level of 'it's difficult to distinguish between true and false'." Liu Yong, founder of jiyuanmei, said: "we are committed to becoming a brokerage company of metaverse and cultivating our own artists."  
It can be seen that track players are accelerating the layout of the future of virtual idols. However, technical constraints, money burning and commercial realization are still difficult problems in front of virtual idols.
Liu Yexi has been on the line for 2 months and has raised tens of millions of fans
Founder: exploding fire is the harmony of time, place and people
On October 31, two days after Facebook (Facebook) changed its name to "meta" and announced its march to metaverse, Liu Yexi's first video went online.  
In the short 2-minute video, virtual people and real people interact smoothly, cyberneon and Chinese fantasy complement each other, coupled with film like image quality and special effects, Liu Yexi made a fire all night.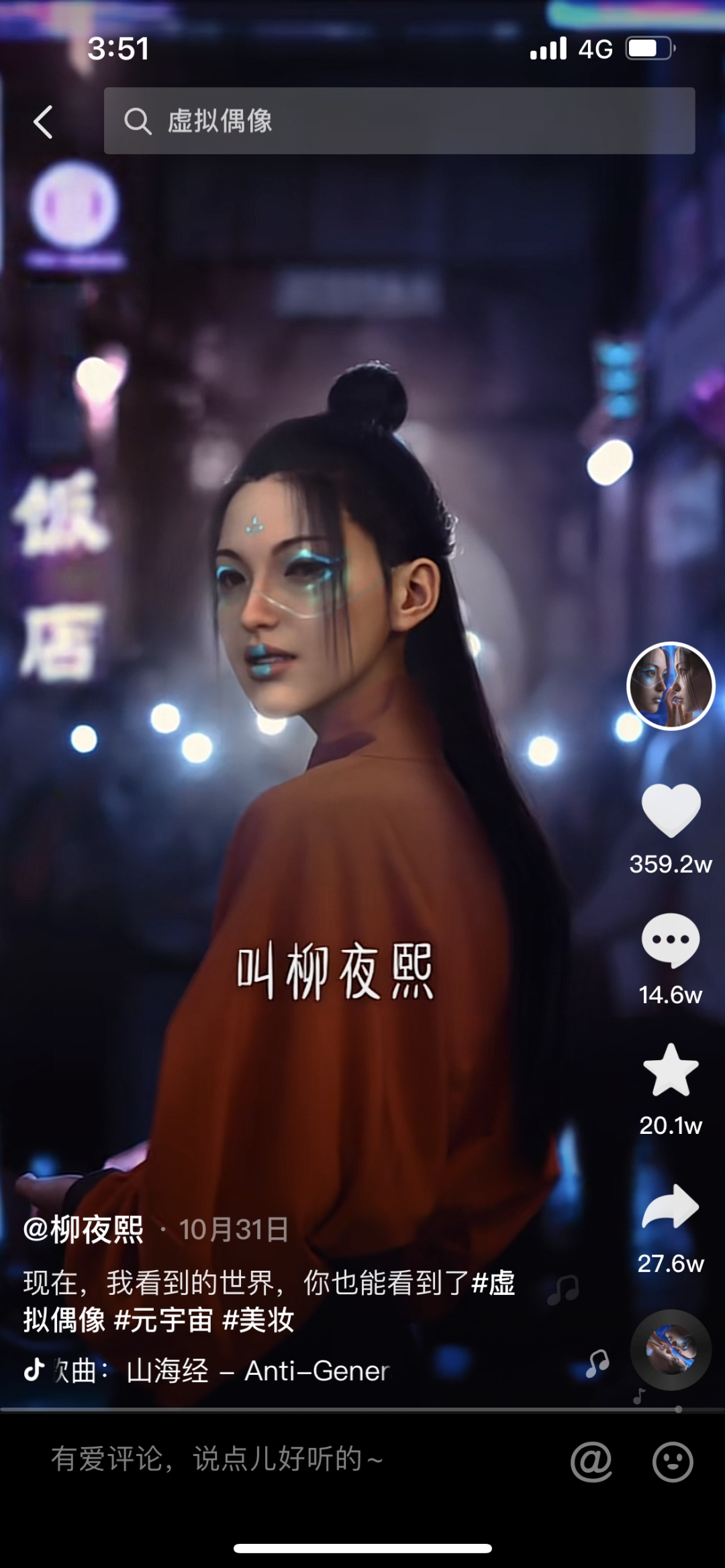 1.35 million fans in one day, 2.3 million fans in three days and 4.3 million fans in one week… Liu Yexi has obtained huge traffic in a short time. Up to now Kwai Nye, who has only released 4 videos, has 8 million fans in tiktok, 1 million 530 thousand fans in the fast track, 800 thousand fans in Xiao Hong, and 440 thousand fans in micro-blog.
In addition to the soaring number of fans, the Chinese style makeup with quite scientific and technological elements has also attracted a lot of secondary creative content for Liu Yexi. As of December 27th, "challenge Liu night Xi imitation makeup", "when the beauty of the encounter Metaverse" two topics, in the 760 million tiktok played. In other words, Liu Yexi's influence has spread more widely through the content of "two innovations".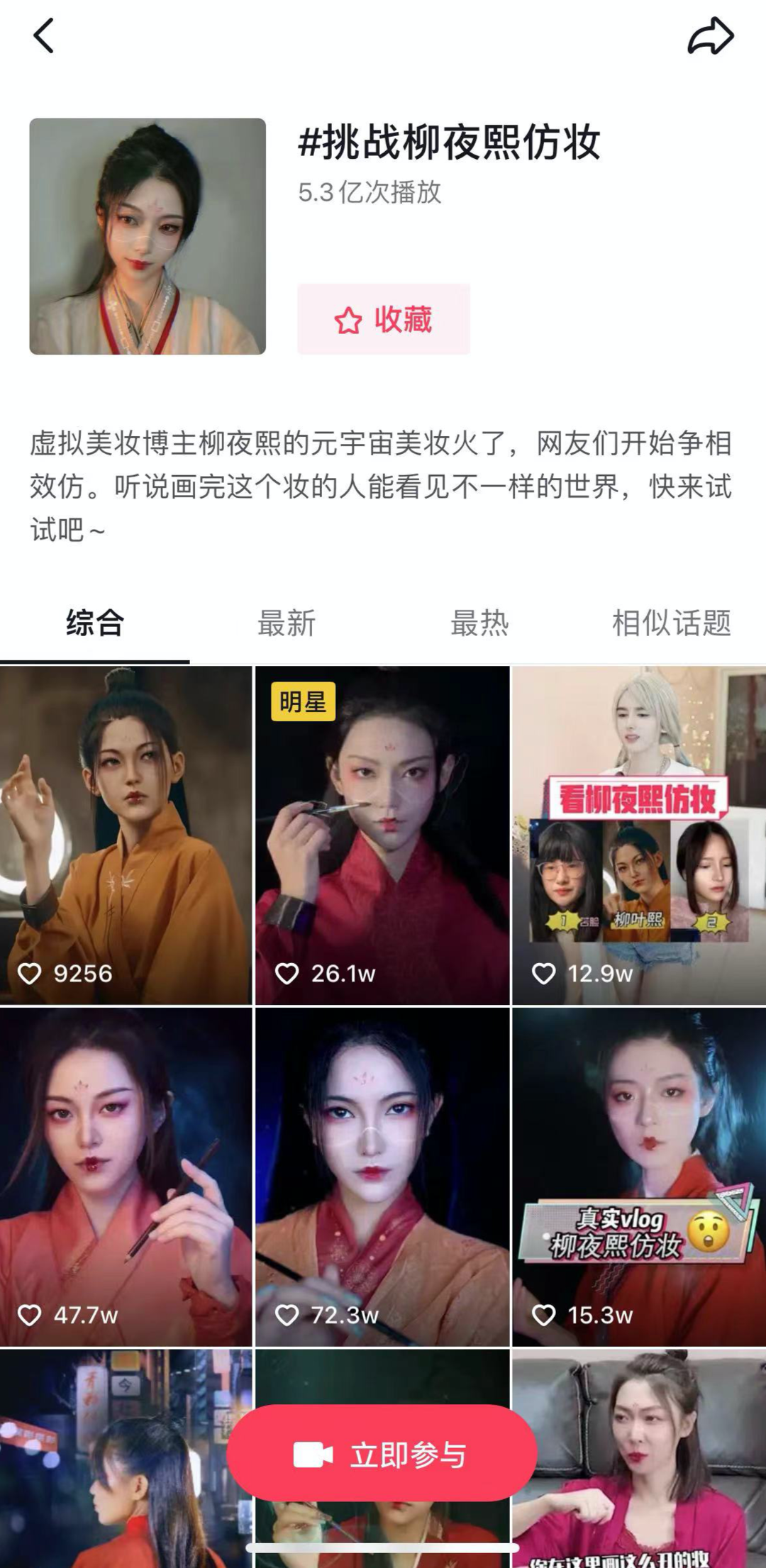 Why is Liu Yexi so hot? On December 26, red star capital Bureau interviewed the company behind Liu Yexi – Shenzhen Chuangyi technology and Culture Co., Ltd. (hereinafter referred to as "Chuangyi technology"). In the view of Xie duosheng, chairman of Chuangyi technology, "Liu Yexi's explosion is the harmony of time, place and people."
"Favorable time and place" can be understood as Liu Yexi stepped on the rapidly popular "metaverse" concept. In the second half of 2021, the concept of "metaverse" became popular. After Facebook (Facebook) changed its name, the discussion of metaverse reached a new height. Liu Yexi also added the label of "metaverse" below the first video released.
So, how to understand "human harmony"? Xie duosheng told the Red Star capital Bureau: "before Liu Yexi, the company had incubated three short video IPS, all of which belong to creative and special effects tracks. From 2018 to now, the team has also accumulated some skills in technology and content planning. When we want to extend one step outward, we see the virtual idol and metaverse track, so we have Liu Yexi."
Close to the "metaverse" air outlet
Virtual idols have erupted intensively in the past year
Stepping on the metaverse tuyere, in addition to Liu Yexi, there is another virtual idol ayayi.
On May 20, 2021, ayayi, an image between light and shadow and no different from real people, appeared in Xiaohong book. In "is this a real person or an AI?" During the discussion, ayayi, who has only one picture, has gained a lot of traffic. The powder of little red books rises by 40000 a day, and the reading volume of the first post is also 3 million.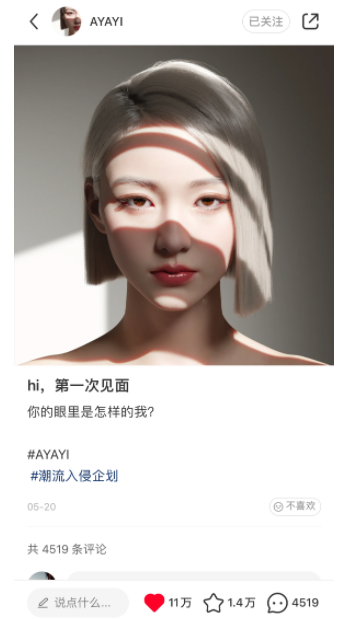 "We have reached a new height in the matter of 'it's difficult to distinguish between true and false'," referring to the reasons for ayayi's popularity, the person in charge of its production company burning wheat technology told Red Star capital Bureau on December 24.  
In an interview with red star capital Bureau, metaverse is a word frequently mentioned by various virtual idol companies.
In 1992, science fiction writer Stevenson described an online virtual world in his novel avalanche. People can live here like real life through the created virtual characters. This is the prototype of metaverse. After nearly 30 years, this concept has become popular all over the world, and 2021 is even called "the first year of metaverse".
Standing at the time node of the first year of metaverse, virtual idols spring up like bamboo shoots. Liu Yexi and ayayi are just one corner. On June 1 alone, two virtual human images of huaxizi's virtual spokesman "huaxizi" and Tsinghua University's virtual student "huazhibing" appeared at the same time. According to the statistics of Beijing business daily, in October this year, six virtual idols were launched on the market in half a month.
In addition, it can also be seen from the data of Xiaohong book that virtual idols have a trend of concentrated outbreak in recent years. So far, more than 20 virtual idols such as IMA, Axi Angie, Alice and jiyuanmei have settled in xiaohongshu, most of which are operated this year.
However, the public is still ignorant of metaverse. At this time, the visible virtual idol image fills the imagination gap of metaverse and becomes a bridge between metaverse and the real world.
This can also be confirmed by the statement of the person in charge of fuel wheat Technology: "when everyone can easily understand what metaverse is and enter metaverse in a very simple way, ayayi's mission will be completed, which is our ultimate expected goal."
Liu Yexi's appearance also smelled the heat of metaverse. "At the beginning of the year, we wanted to take a look at the opportunities in the external market and found the virtual idol and metaverse track. Therefore, we wanted to combine the content ability of Chuangyi with these two tracks and planned the metaverse IP matrix," said Xie duosheng, chairman of Chuangyi technology.
Another virtual idol, jiyuanmei, comes from Beijing Mota spacetime Technology Co., Ltd. (hereinafter referred to as "Mota spacetime"). Its founder Liu Yong also told the Red Star capital Bureau: "at the beginning of our establishment, we were aiming to build metaverse's core content assets. Anyway, metaverse needs stars and characters in the future. Therefore, our team is committed to becoming metaverse's brokerage company and cultivating our own artists."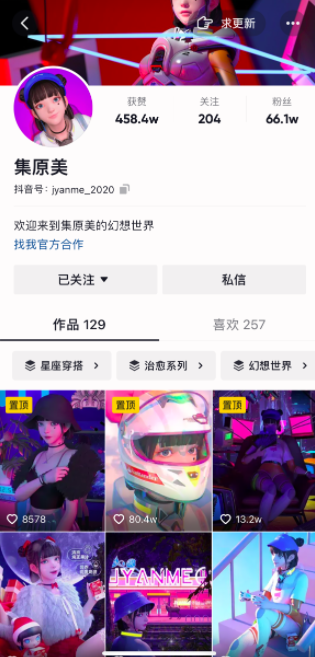 Virtual idols hold up hundreds of billions of blue oceans
The forerunner has eaten the flow dividend
Lu Qi (a pseudonym), who has been engaged in virtual human research and development for three years, told the Red Star capital Bureau: "before 2021, the dilemma of virtual idols is the lack of appropriate application scenarios, and more of them appear in live broadcasts, such as Luo Tianyi and a-soul. But now the emergence of metaverse has found a new application scenario for virtual idols."
In fact, before the launch of virtual idols, the two companies and team members of burning wheat technology and Chuangyi technology had been deeply engaged in the field of IP creation incubation for many years, but they all chose to flock to the virtual idols and metaverse track in 2021.
According to the person in charge of burning wheat technology, its founding teams are from trend IP, animation content development companies and online Red incubation MCN institutions, with rich content creation ability and IP incubation operation experience, such as members who have incubated online red once and meat face orange. Chuang technology has been running in the short video content field for nearly 4 years, and has hatched many special effects IP accounts, such as Hui fan Zhou who has 15 million fans in tiktok.  
It is worth mentioning that Liu Yexi is not the first water test of Chuangyi technology in the virtual human track. As early as March 2020, the account "astronaut five" of Chuangyi technology was launched, which also has elements such as virtual image, plot special effects and interaction with real people, but astronaut five failed to reach the popularity of Liu Yexi. Up to now, tiktok of the astronauts who have released 93 works, the number of fans is only 1/4 of Liu's. From this point of view, Liu Yexi did enjoy the dividend of this wave of metaverse tuyere.
In addition to catching up with the tuyere, the huge market space also adds a lot of "catalysts" to the virtual idol track. According to AI media consulting, the scale of China's virtual idol core industry will reach about 6.22 billion yuan in 2021, almost doubling from 3.46 billion yuan in 2020. The scale of the surrounding market driven by virtual idols is even expected to grow to about 107.49 billion yuan this year, up 13 times from 8.09 billion yuan in 2017.  
"Our plan for Liu Yexi must be 5-10 years or more, so as to accompany the growth of a generation". In Xie duosheng's idea, Liu Yexi is only the beginning of creating a "metaverse IP matrix" by one technology. What they want to do is more like marvel in metaverse, while Liu Yexi is given the same expectation as "Iron Man".
A month after the launch of Liu Yexi, Chuangyi technology released its second virtual Idol "yukatana", whose video revolved around the story of fighting. Xie duosheng believes that yukatana's fighting device is not "imagined out of thin air", but can be linked to the future "big sports" and "big health" industries. The person in charge of burning wheat technology also told the Red Star capital bureau that it has planned to launch a second virtual idol image, which will be launched in the near future.
Each has his own idea of exploring business realization
Ayayi prefers the traditional path and Liu Yexi is not in a hurry
It can be seen that track players are accelerating the layout of the future of virtual idols. However, compared with the new playing methods brought by virtual idols, the market is more concerned about how to realize business.
The business model of ayayi set by burning wheat technology seems to be more inclined to the path of traditional MCN incubation KOL.
Red Star capital Bureau found that at the beginning of the launch, ayayi released the dynamics of offline activities such as punch in Disney and kongshanji, and later reached cooperation with dozens of brands such as Bose headset, Guerlain, LV, Porsche and canadian goose. The person in charge told the Red Star capital Bureau: "at present, xiao100 must have a brand cooperating with us."
Liu Yong, founder of the US, said to Hongxing capital Bureau: "the commercial liquidation of the tiktok company mainly comes from the platform vendors, which have the content cooperation and endorsement, and the majority of the small red books and the jitter are." From the end of 2020 to now, jiyuanmei has cooperated with dozens of brands such as Mengniu, Xi tea, jiaonei, Haima body, Qeelin jewelry and pubgm.
Liang zikang, CEO of Chuangyi technology, once revealed that after Liu Yexi's explosion, thousands of brands took the initiative to find door-to-door cooperation. But in this interview, chairman Xie duosheng told Red Star capital Bureau: "Liu Yexi is not in a hurry to realize at this stage." Compared with ayayi and jiyuanmei, Liu Yexi's commercial realization appears to be "restrained".
Why do brands favor virtual idols? According to Cui Lili, director of the E-commerce Research Institute, virtual idols will not have moral hazard and have a higher safety factor for brands; There will be no personal factors affecting the business relationship.
Xie duosheng, chairman of Chuangyi technology, also has the same view: "whether it's a star or a contract winner of MCN, in fact, it will encounter situations that affect your career in your personal life. If it's a virtual asset, the risk will be much smaller."
Insiders told the Red Star capital bureau that the most important factor for the brand to see virtual idols is actually the Z generation consumer group behind them. After all, they represent the future consumption power. The person in charge of burning wheat technology said: "nearly half of ayayi's fans are generation Z people aged 18-24. We can describe their new image in metaverse for the brand and help the brand broaden its user circle."
But behind the commercial realization, there are also some problems. For example, there has always been controversy in the market about virtual idols bringing goods to beauty bloggers. Some fans once commented: "virtual people come to be beauty bloggers, and the recommended cosmetics virtual people can't reflect the real effect."
A Yu, founder of wakanda, an MCN organization focusing on little red books, said: "the brand choice to cooperate with virtual idols may also be an early taste. If it has always been a modeling face, users will be tired of it, and the cost of asking virtual idols to endorse is very high. Compared with KOL of the same fan level, the price is at least 3-5 times that of the latter."
"The commercial realization we want most is the commercial realization generated by the connection between the virtual world and the real world under the concept of metaverse," said Xie duosheng. However, we are still far from achieving this goal. "Now, we can only implement version 1.0. For example, we can cooperate with platforms and traditional IP to create digital people or make some virtual assets. What will happen in the future depends on the development of metaverse."
Capital giants rush in
Behind the fiery heat, it is difficult to hide the essence of "burning money"
The current situation of the virtual idol track is more like "virtual idols come first before metaverse", but capital and giants have already come to an end.
Looking at China, giants such as Tencent, byte beating, Netease and Ali are accelerating the layout of virtual idols.
On June 8, 2021, the art copyright company of a-soul member of Lehua Entertainment's virtual idol women's group changed in industry and commerce, and Beijing Youyi Technology Co., Ltd., a wholly-owned subsidiary of Lehua entertainment, became the actual controller of the company, holding 100%. As early as November 2020, Tencent announced that it had reached a strategic cooperation with wave, a virtual performance service provider, and would invest in it in the form of equity. Netease also recently invested in Beijing Shiyue Xingcheng Technology Co., Ltd., which has launched three virtual idols. In 2020, Taobao tmall cooperated with Vientiane culture, a virtual idol service provider, to create a virtual idol with goods on Taobao tmall.
On the other hand, capital is betting on the track. According to incomplete statistics of Red Star capital Bureau, there were dozens of investment behaviors in the virtual idol track in 2021.
For example, one month after ayayi went online, fuel wheat technology got a financing of millions of yuan. In August this year, Mota spacetime, the parent company of jiyuanmei, also received an angel wheel of US $3 million. The virtual human company Cishi culture announced that it had completed the round a financing of US $5 million in August, led by the founding partner CCV, and followed by the old shareholder Shunwei capital. Liu Yexi's popularity has also attracted the attention of capital for Chuangyi technology. Chairman Xie duosheng said: "there are too many investors who want to join, and they are in contact at present."

It can be said that the influx of giants and capital makes the virtual idol track more hot. But behind the heat, it is difficult to hide the essence of "burning money".
How much does it cost to be a Liu Yexi? "Liu Yexi's costs were not counted, most of them were completed internally, and the man hour cost was not calculated carefully". Chairman Xie duosheng did not answer the questions of Red Star capital Bureau. However, the Red Star capital Bureau learned that Liu Yexi spent more than half a year from the initial idea to the final presentation.
Lu Qi, a virtual human R & D worker, said: "in the first step of modeling, virtual idols cost a lot. If it is 2D modeling, it may only cost about 100000 yuan, but 3D modeling requires hundreds of thousands or even millions, and the subsequent processes cost a lot." In Lu Qi's view, the input-output ratio of virtual idols is "particularly low". "Our previous projects can be done by investing in station B and burning money to do technology. In fact, we haven't returned our capital for nearly three years now."
In addition to technology burning money, some people in the industry said that the IP creation of virtual idols is also burning money. In addition to Liu Yexi, ayayi and jiyuanmei, which are already well-known virtual idols, most virtual idols are still struggling to "break the circle".
The technical threshold is too high, which has also become an obstacle to the production of virtual idol content. The production process of virtual idol involves painting, animation, CG and other forms, and the R & D cost, personnel cost and technical cost are not low. Xie duosheng, founder of Liu Yexi, told the Red Star capital bureau that Chuangyi technology currently adopts the mode of large middle stage and small front desk, and there are nearly 80 middle stage personnel serving Liu Yexi's content production.
Employees with certain technical ability are not easy to find. Liu Yong, founder of jiyuanmei, told the Red Star capital Bureau: "at present, the biggest difficulty is that it is difficult to recruit technical talents. Talents have been robbed by three or five times the salary of big game manufacturers."
Special statement: the above article only represents the author's own views, not Sina's views or positions. If you have any questions about the content, copyright or other issues of the work, please contact sina.com within 30 days after the publication of the work.