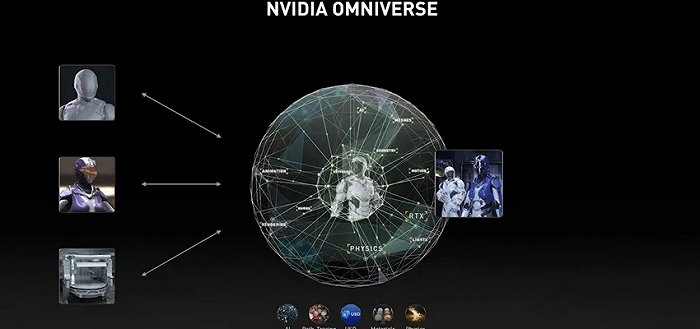 On November 9, NVIDIA announced the "three core" strategy of upgrading its product line to "GPU + CPU + DPU" at the 2021 GPU Technology Conference (GTC 2021), and positioned its newly released Omniverse platform as "engineer's metaverse".
Omniverse is an open platform that is easy to expand. It is designed for virtual collaboration and accurate real-time simulation at the physical level. It is powered by NVIDIA RTX technology. Creators, designers, researchers, and engineers can connect major design tools, assets, and projects to collaborate and iterate in a shared virtual space.
Developers and software providers can also easily build and sell extensions, applications, connectors and microservices on Omniverse's modular platform to expand their functions. According to NVIDIA's official website, NVIDIA Omniverse can transform the industry workflow, in which physical level accurate ray tracing rendering is more important for immersive visualization, accurate simulation and faster review and discovery. The Omniverse platform is flexible, easy to customize, and continuously enhanced with new Omniverse applications, extensions and connectors.
For this issue of intelligent internal reference, we recommend the report "metaverse from NVIDIA Omniverse platform" of Orient Securities to reveal the metaverse layout of NVIDIA Omniverse.
01. NVIDIA Omniverse is the cornerstone of metaverse
NVIDIA Omniverse is an open platform that is easy to expand. It is designed for virtual collaboration and physical level accurate real-time simulation. It is powered by NVIDIA RTX technology. Creators, designers, researchers, and engineers can connect major design tools, assets, and projects to collaborate and iterate in a shared virtual space. Developers and software providers can also easily build and sell extensions, applications, connectors and microservices on Omniverse's modular platform to expand their functions.
According to NVIDIA's official website, NVIDIA Omniverse can transform the industry workflow, in which physical level accurate ray tracing rendering is more important for immersive visualization, accurate simulation and faster review and discovery. The Omniverse platform is flexible, easy to customize, and continuously enhanced with new Omniverse applications, extensions and connectors.
1. What Omniverse can achieve
According to NVIDIA's official website, Omniverse platform has three main application effects:
(1) Omniverse platform enables real-time collaboration between users and applications. Omniverse platform can realize the real-time integration of users and mainstream industry 3D design tools on a single interactive platform. On this basis, developers can update, iterate and change immediately without preparing data, so as to simplify the workflow;
(2) Omniverse provides real-time ray tracing. Omniverse platform provides scalable and real-time ray tracing and path tracing, which can realize exquisite, accurate and realistic visual effects based on works in real time;
(3) Omniverse platform enables model scalability. On the Omniverse platform, developers only need to build the model once to render on different devices.

▲ rendering effect available through Omniverse platform
2. Underlying technology of Omniverse
RTX: among them, NVIDIA RTX, the underlying technology of Omniverse, is a graphics platform created by NVIDIA, which can help the new generation of applications simulate the physical environment at an unprecedented speed. NVIDIA RTX is mainly used to realize real-time ray tracing. Applications based on RTX platform bring powerful functions of real-time photo rendering and AI enhanced graphics, video and image processing, helping designers and artists create excellent content in a new way.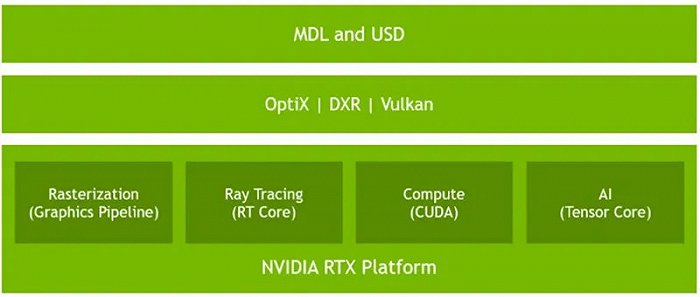 ▲ NVIDIA RTX platform
CUDA: CUDA (Compute Unified Device Architecture) is a parallel computing platform and programming model specially developed by NVIDIA for general computing on graphics processing unit (GPU). With CUDA, developers can take advantage of the powerful performance of GPU to significantly accelerate computing applications.
In GPU accelerated applications, the serial part of the workload runs on the CPU, and the CPU has been optimized for single thread performance, while the computing intensive part of the application runs on thousands of GPU cores in parallel. When using CUDA, developers use mainstream languages (such as C, C + +, FORTRAN, Python and MATLAB) for programming, and express parallelism in the form of several basic keywords through extension programs.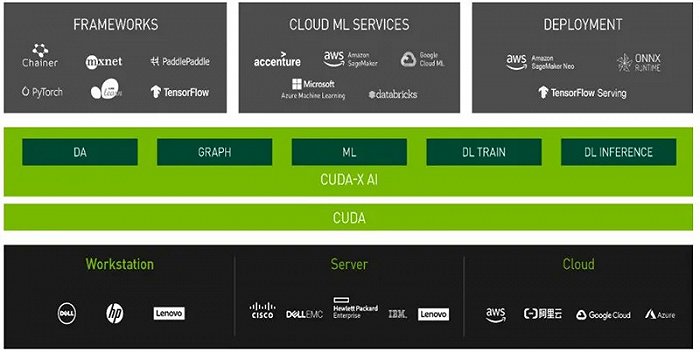 ▲ CUDA architecture
3. Omniverse application scenario
According to the disclosure on NVIDIA Omniverse page, the main application scenarios of Omniverse include:
(1) Architecture, engineering and construction: used in the initial conceptual design of the industry, competition and customer demonstration, global collaboration and rapid design review stage;
(2) Media and entertainment: used in industry conceptual design review, supplier communication, AI training and Simulation of production line robots, and huge interactive factory layout data set stage;
(3) Manufacturing: it is applied to the initial conceptual design of the industry, accelerating the speed of iterative design and real-time generation of daily samples, global collaboration and virtual production;
(4) Supercomputing: it is used in the industry to import materials from different sources, real-time simulation platform, render 2D and 3D geometry at the same time, and release film grade visual effect products
(5) Game development: help game developers bring games to market faster, manage extended resource libraries, simplify 3D character animation and redefine video game narrative.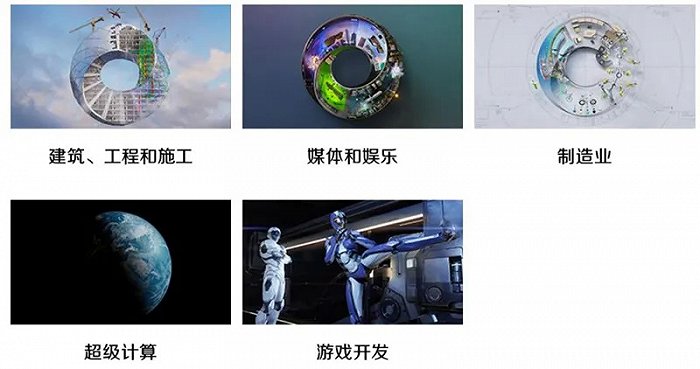 ▲ five application scenarios of Omniverse platform
02. Five basic technologies to build a new world of metaverse
In the metaverse era, the industry needs more powerful tools to 3D model real objects and input different models for the metaverse world. Among them, 3D modeling algorithms need to be continuously optimized based on different vertical scenes. At present, the existing modeling technologies include game modeling, film and television modeling, industrial modeling and architectural modeling. The industry's demand for more efficient modeling technology comes from three aspects:
(1) The amount of data under 3D model will reach TB, and relevant software needs to calculate TB data. More optimized modeling technology for vertical application scenarios will save virtual modeling time.
(2) In addition, the advanced algorithm can reduce the amount of data required by the 3D model, so as to improve the efficiency of software processing.
(3) In order to achieve better simulation effect, more physical dimension algorithms are needed, such as determining the material and other physical characteristics of the physical entity of the digital model. NVIDIA physics algorithm is an algorithm based on the physical material modeling of real objects. NVIDIA can provide efficient 3D modeling tools for the industry through Omniverse platform, so as to realize the development of developer ecology, software ecology and vertical application scenarios, and stimulate the demand for underlying computing power.
NVIDIA has created new products with the help of Omniverse platform: artists, designers, creators and developers can use the real-time physical simulation functions of NVIDIA physx5, blast and flow in Omniverse platform, and use applications such as Omniverse create, Isaac SIM or drive sim.
(1) Physical level simulation: underlying algorithm
PhysX: NVIDIA PhysX is a technology that performs complex physical operations, enabling designers to use complex physical effects in the process of developing games without spending a long time developing a set of physical engines as before. With the help of PhysX function, the latest generation of physx5 adds functional modules on software dynamics, cloth, material point method and other directions on the basis of physx4.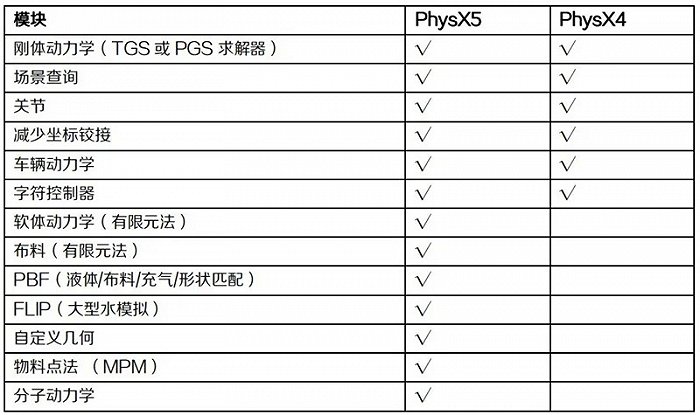 ▲ function comparison between physx5 and physx4
Blast: blast is the destruction Library of NVIDIA gameworks, which is used to replace apex destruction module. Blast focuses on performance, scalability and flexibility, and is designed to leave physical and graphical rendering to applications. Blast deals with destructive elements in a simplified representation and conveys to users the content required to update physics and graphics in their applications. Through this method, developers can focus on the performance of core algorithms and provide a library with powerful and transparent functional behavior.
Flow: NVIDIA flow is gameworks' combustible liquid, fire and smoke simulation product. The fluid simulation in NVIDIA flow is modeled based on adaptive sparse voxel mesh to achieve maximum flexibility and minimum memory impact, and optimized for the use of volume tiling resources when available.
(2) Physical level simulation: application carrier Omniverse create
Omniverse create is an application for accelerating advanced scene synthesis. It supports users to assemble, illuminate, simulate, render and interact with the environment in a real-time and interactive manner according to Pixar USD. With a simple but powerful toolkit built according to Pixar's universal scene description (USD), artists, designers and engineers can build complex real-time simulations, images or movies with accurate physical properties.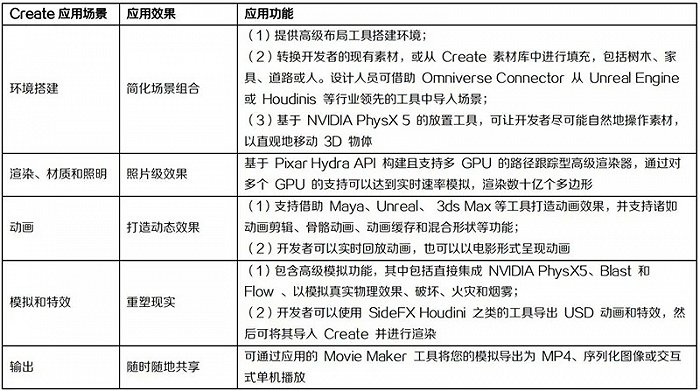 ▲ Omniverse create application function
(3) Multi user design collaboration: NVIDIA Omniverse enterprise
NVIDIA Omniverse enterprise accelerates workflow and projects through real-time collaboration and realistic simulation platforms for organizations of all sizes. NVIDIA Omniverse enterprise is an end-to-end collaboration and simulation platform that can fundamentally change complex design workflow. At this stage, NVIDIA Omniverse enterprise has provided a subscription to NVIDIA Omniverse enterprise platform.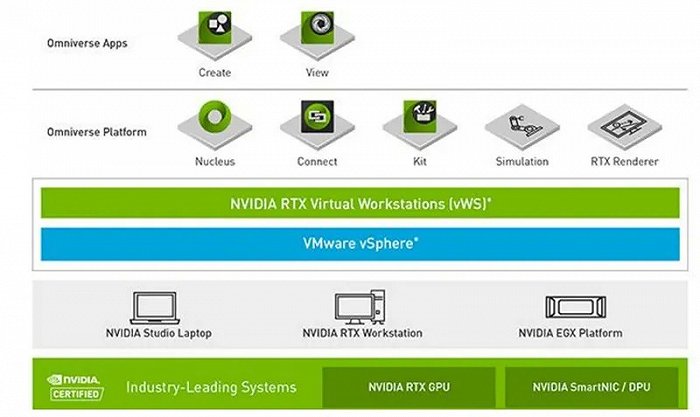 ▲ NVIDIA Omniverse enterprise platform architecture
Omniverse enterprise platform Subscriptions: all Omniverse enterprise subscriptions include an enterprise launcher and an enterprise connector. The minimum initial purchase package includes 2 Omniverse enterprise creators, 10 Omniverse enterprise reviewers and 4 Omniverse enterprise nucleus subscriptions.

▲ Omniverse enterprise platform permission
The Omniverse enterprise platform can be adapted to enterprises of all sizes. Omniverse enterprise can be easily deployed to organizations of any size, ranging from small workgroups on LANs to mixed local and cloud deployments to global distributed teams working in central data centers.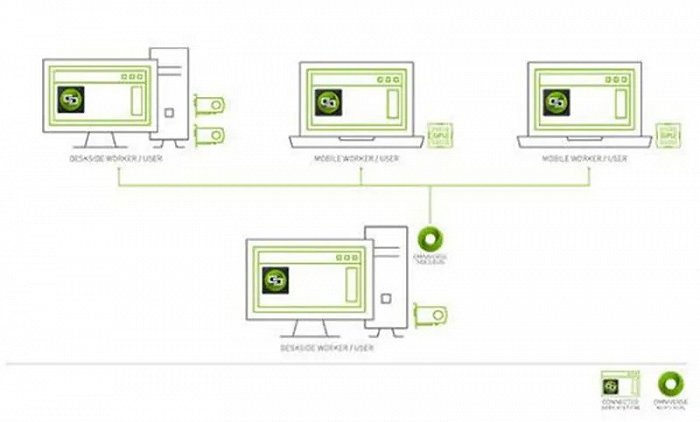 ▲ Omniverse enterprise platform architecture for small workgroups ▲ Omniverse enterprise platform architecture for large enterprises
(4) Realistic, real-time rendering: marbles RTX
Marbles RTX is a physics based mini game level where players can control marbles to run in a scene full of obstacles. The final marbles RTX technology demonstration completed in Omniverse produced more than 500GB of texture data, 165 unique resources for manual modeling and texture, more than 5000 meshes and about 100 million polygons.
(5) AI accelerated workflow: Omniverse AI toybox
Ganverse 3D uses the power of AI to transform a single image of a car into a fully driveable 3D asset, including lighting, physics and physics based materials. NVIDIA is using AI to improve the content creation process and provide creators everywhere with the ability to create virtual worlds. AI toy box is a collection of Omniverse extensions, which shows the latest research results of NVIDIA aimed at enhancing the ability of content creators. NVIDIA is the first mock exam to launch a Omniverse extension, supported by NVIDIA research, GANverse3D, which allows developers to take photos of cars and create virtual replicas.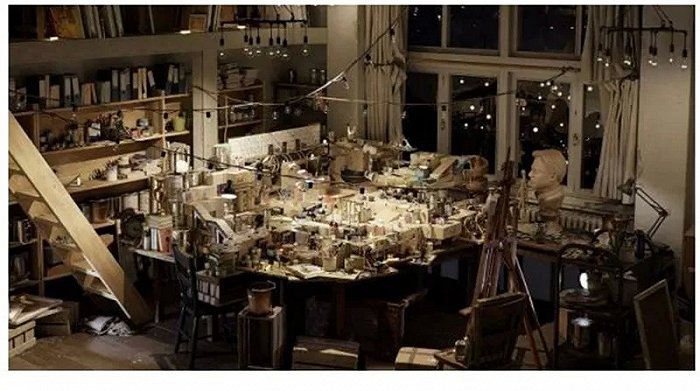 ▲ marbles RTX modeling and texture effect
03. Application of digital twin Technology
1. Manufacturing: BMW digital factory
BMW's virtual digital chemical plant is built based on NVIDIA Omniverse platform. The real-time simulation and cooperation platform software is developed by NVIDIA and based on NVIDIA GPU architecture. In BMW virtual digital factory, Omniverse's functions mainly include:
1) Import various design software of BMW factory into CATIA, Bently, point cloud and other design data to Omniverse platform, render GPU in Omniverse, establish virtual model and optimize design based on the virtual model;
2) Omniverse platform uses its 3D application and real-time cooperation ability between users to help BMW virtual chemical plant carry out ergonomic optimization simulation;
3) Visualize simulation data through NVIDIA's GPU rendering capabilities. BMW factories can virtually design, plan and operate their factories before building anything in the physical world.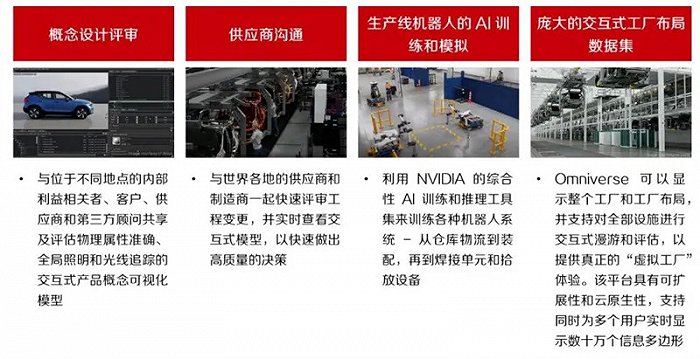 ▲ BMW digital factory built on Omniverse platform
2, autopilot: DRIVE Sim
NVIDIA drive SIM is an end-to-end simulation platform built from scratch to run large-scale, physically accurate multi-sensor simulation. It is an open and scalable modular product, which supports audio-visual development and verification from concept to deployment, so as to improve the work efficiency of developers and speed up the time to market.
3. Robot: Isaac Sim
NVIDIA Isaac SIM supported by Omniverse is an extensible robot simulation application and synthetic data generation tool, which can support a virtual environment with photo realism and physical accuracy to develop, test and manage AI based robots.
The main functions of Isaac SIM include:
(1) Realistic simulation: use the powerful simulation technology of Omniverse platform, including advanced GPU supported physical simulation using PhysX 5, fidelity with real-time ray and path tracking, and MDL material definition support for physical based rendering;
(2) Modular architecture covering a wide range of applications: Isaac SIM aims to solve many of the most common robot use cases, including operation, navigation, synthetic data generation for training data. In addition, due to its modular design, the tool can be customized and extended to many new use cases;
(3) Seamless connectivity and interoperability: with NVIDIA Omniverse, Isaac SIM benefits from Omniverse nucleus and Omniverse connectors, and can build, share and import environment and robot models in USD.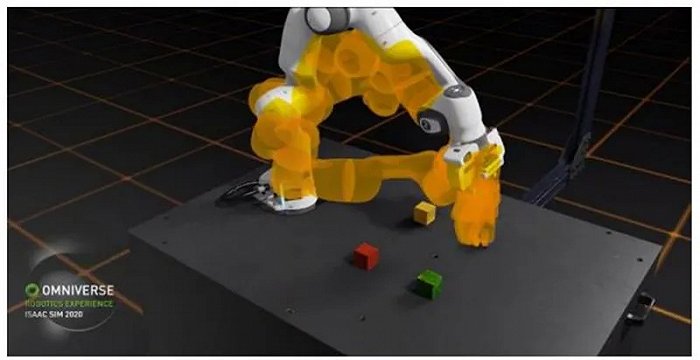 ▲ NVIDIA Isaac SIM industrial robot simulation
4. Supercomputing Center: NVIDIA index
NVIDIA index is a stereoscopic visualization tool that enables users to interactively visualize the entire data set and accelerate the process of collecting deeper insights. Users can change the color map at any time to highlight the subtle attributes of the data, view the cross-section of the whole time series, and check the key components of the data by using functions such as ambient light shading and shadow.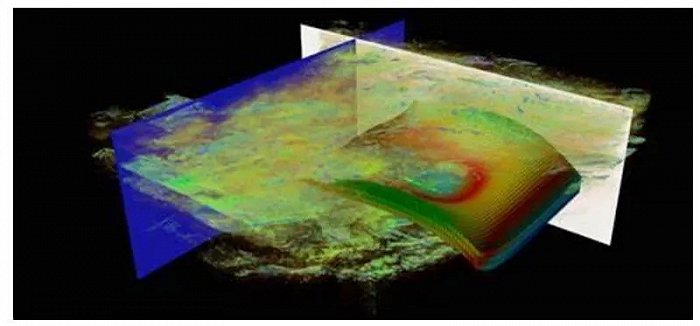 ▲ effect diagram of NVIDIA index
04. Market prospect
Many virtual scenes in metaverse are modeled according to real scenes. This process needs to rely on highly mature 3D modeling algorithms. The accumulation of these algorithms may come from games, entertainment, architecture, industry and other scenes. This brings new revenue to manufacturers of layout 3D virtual modeling. This revenue increment can be disassembled into the revenue of software tools (license fee) and the pull of ecology on the underlying computing power.
According to NVIDIA's announcement, Omniverse has been adopted by more than 700 companies and more than 70000 individual creators. Omniverse has also moved from beta to general-purpose and expanded to the software ecosystem, making it accessible to 40 million 3D designers. According to the annual licensing cost of US $1000 per 3D designer, the new software market space can reach US $40 billion / year after maturity.
Omniverse's advantages: software capability + ecosystem. NVIDIA's dedicated applications designed to accelerate different workflows. Developers can use Omniverse applications or build their own applications on the Omniverse suite.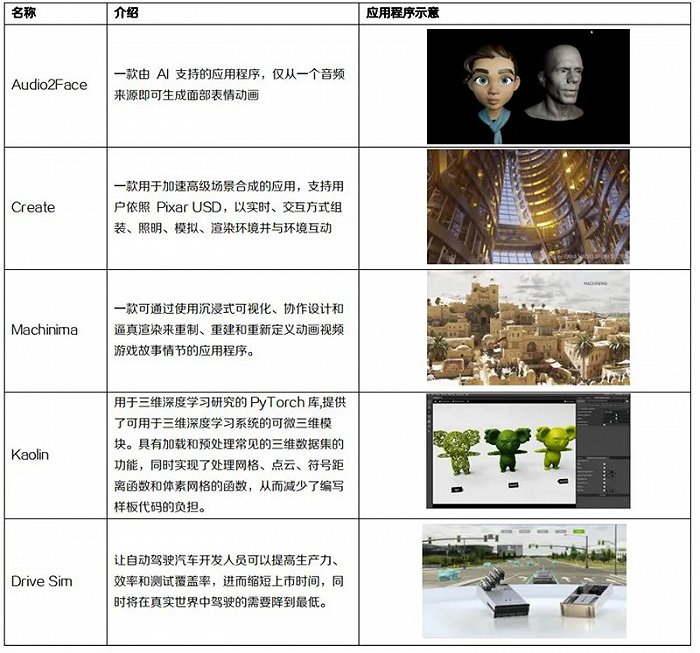 ▲ Omniverse applications and functions
In addition, developers can give play to the advantages of interconnected multi application workflow by importing / exporting, Omniverse drive or Omniverse connector (one-way or two-way plug-in supporting real-time editing workflow) with USD supported third-party applications and libraries. Omniverse can connect with Autodesk, Adobe Photoshop, unreal and other tools.
Positioning: interconnection center of 3D workflow. With the high compatibility of Omniverse platform, Omniverse can act as the interconnection center of the whole 3D workflow, replacing linear processes with real-time synchronous creation. Through Omniverse connectors and applications, developers can use familiar design applications, seamlessly integrate developers' 3D workflow, and open up new ways to accelerate the construction and exploration of ideas.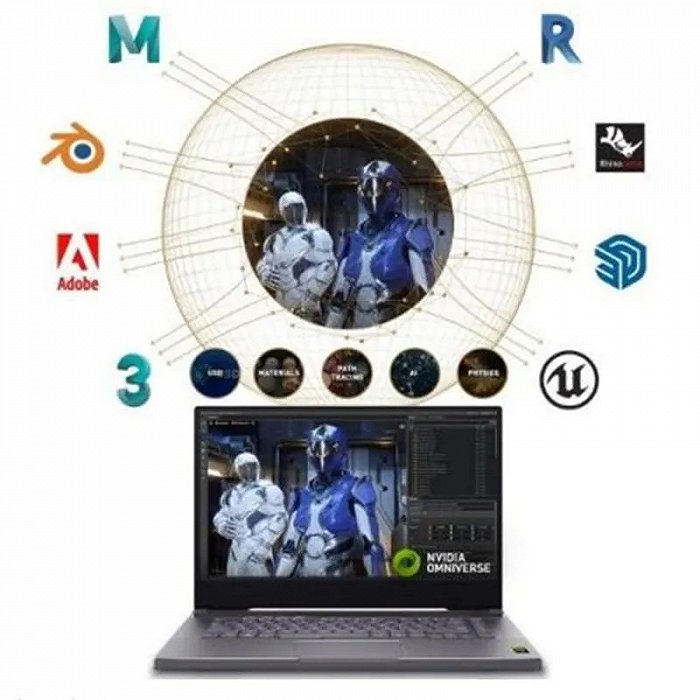 ▲ Omniverse is positioned as the interconnection center of 3D workflow
Zhidong believes that compared with social networks, game giants and software giants, NVIDIA is positioned as the lowest level of metaverse Hardware: GPU, AI and Omniverse. Omniverse platform is the master of NVIDIA's software and hardware technology over the past 20 years. It is the base of NVIDIA's technology platform for creating metaverse digital virtual space. In the future, in the metaverse era, NVIDIA may continue to maintain its hardware dominance in the GPU era, or be the biggest winner in the metaverse era.